Aug 18, 2017
0 comment

angelicas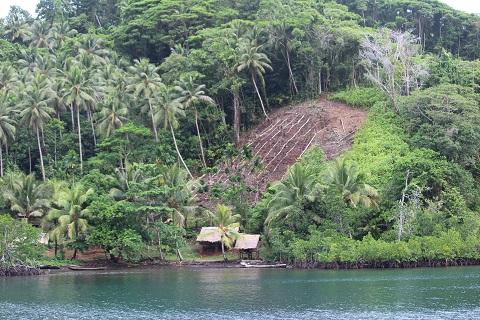 By Ruci Vakamino of Wansolwara
17 August, 2017, Honiara, Solomon Islands, PMC-4 – Solomon Islands are piloting a project that links weather prediction models to disaster risk management.
It's called Forecast-based Financing (Fbf) and it's being jointly developed by the Red Cross Red Crescent Climate Centre and Solomon Islands Meteorological Services.
Briefing delegates at the 4th Pacific Meteorological Council meeting in Honiara, Red Cross Red Crescent Climate Centre's Senior Climate Advisor Olivia Warrick said Fbf simply aims to ensure finance is made available before a disaster strikes.
"What we see is that a lot of disaster financing or disaster money is available after disasters happen," Warrick said. "There's a lot of money available for development work, but there is very little money generally available for immediate disaster preparedness right before a disaster happens so as to help communities to take action to minimize the possible impact of the disaster when it does happens," she added.
Warrick said the FbF model uses climate prediction forecasts that are provided by the National Meteorological Services.
"For example, if the forecast is of a heavy rain event, a drought or a flood, based on this forecast, money can be released to support communities to undertake actions to help them to minimise the impact of that expected disaster," Warrick said.
Acting director of the Solomon Islands Meteorological Services (SIMS), Lloyd Tahani, said the Red Cross plays an important role in the community.
"Where SIMS cannot attend to, Red Cross is in the frontline at the community level to deliver information that is very important for early preparations," Tahani said.
"Early actions to reduce impacts of disaster is very important and that is the objective of the activities that we work together in," he added.
The Disaster Management Officer of the Solomon Islands Red Cross, Camern Vundi, said through their partnership with SIMS, they were able to connect the MET services with the communities.
"We work closely with the MET Service in establishing early-warning systems for communities under the FbF project," he said. – #PMC4 #PacificMet
The Fourth Pacific Meteorological Council is being held in Honiara, Solomon Islands from the 14 – 17 August co-hosted by the government of Solomon Islands, the Secretariat of the Pacific Regional Environment Programme (SPREP) and World Meteorological Organization (WMO). This will followed by the Second Pacific Meteorological Ministers Meeting (PMMM) on the 18 of August.

The PMC and PMMM is supported by the Government of Solomon Islands, SPREP, WMO, Government of Australia through the Climate and Oceans Support Programme (COSPPac) and Pacific Australia Climate Change Science and Adaptation Planning Programme (PACCSAP), Government of Finland, National Ocean and Atmospheric Administration (NOAA), United Nations Development Programme through the Resilience in the Pacific (SIDS) project.

The PMC consists of members of the Pacific National Meteorological and Hydrological Services supported by its technical partners, regional organisations, non-government organisations and private sectors.

This article was developed by a Pacific Media Team of Reporters currently providing coverage on the Fourth Pacific Meteorological Council in Solomon Islands. This activity coordinated by SPREP is supported by a partnership between the Government of Solomon Islands, SPREP, Australia funded project (Climate and Oceans Support Program (COSPPac) and UNDP Disaster for Pacific SIDS (RESPAC) project.
The views and opinions expressed in this article are those of the writer and do not necessarily reflect the views of the Secretariat of the Pacific Regional Environment Programme (SPREP) or the United Nations Development Programme (UNDP)both of which provided funding for generating media articles.