Aug 20, 2017
0 comment

angelicas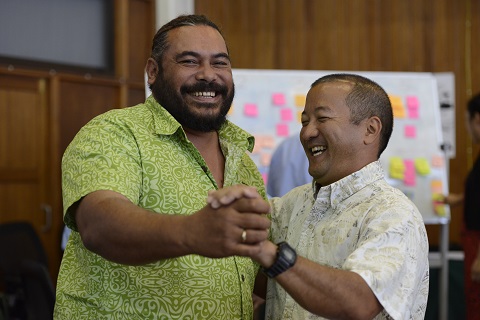 By Repeka Nasiko of Fiji Times
18 August, 2017, Honiara, Solomon Islands, PMC-4 – The first-ever Pacific Meteorological Council Meeting donors and meteorology director's roundtable and 'speed-dating' sessions have been hailed a success by participants.
The roundtable organised by SPREP was held at the Fisheries Forum Agency Conference Room in Honiara, Solomon Islands on Thursday (17 August), brought together PMC member states and international donor agencies from France, Finland, Australia, New Zealand, Korea and Japan.
SPREP Director General Leota Kosi Latu said the roundtable was an opportunity for met directors and donors to discuss shared interests and provide an update of ongoing programmes.
"Partners and donors have their own perspective of what met service should be and likewise for the met service directors have their own perspectives so in terms of the roundtable it was about bringing those minds together," DG Latu said.
"We wanted to bring together these minds to be able to look at what are the capacity constrains and what are the gaps that partners and donors can help met directors bridge.
"In order for that to be effective it's important that partners and donors understand the work of the met directors and it's also important for the directors to understand the perspective of those donors.
"So for us it was simply creating an opportunity for these two parties to better understand each other and how they can merge the long term planning of the partners and donors and the long term planning of the met directors."
Reflecting on their 10-minute sessions with partners and donors on August 17, a few regional directors commended the efforts of SPREP in organising the 'speed-dating' exercise.
Cook Islands Meteorological Services director Arona Ngari said the roundtable meeting indicated the need to have donors and partners to assist national meteorological services.
"I think it's very beneficial for the Cook Islands because all the donors are here for the PMC and we know that some of them are concluding their contribution in the region but the roundtable would have indicated the need to still have them around," he said.
"We are looking at the potential on how to keep them or keeping the door open to come back and maybe to show them a petition of projects for island states that have missed out on funding."
Kiribati's Ueneta Toorua said they were grateful for the opportunity to meet with donors and partners.
"It's a very good opportunity for our groups who come from a very technical background to be able to meet with donors and partners," he said.
"It gives us a chance to discuss with them certain issues that concern our national met services especially in discussing opportunities that are available in our countries that they could partner with us in."
Also taking advantage of the rare opportunity was Tokelau – a new member of the PMC.
Tokelau's Manager for Economic Development, Natural Resources and the Environment Loia Tausi said meetings were a great scoping exercise for her and her team.
"We got an opportunity to know what sort of funding opportunities are there for us," she said.
"One of the issues that we were looking for assistance in was the setting up of our Automated Weather Systems."
Nauru's Roy Harris also took the time to discuss his country's pressing needs.
"One of the main areas that we want help in is the completion of our Nauru Met office. We are looking for donors that could co-fund the completion of our met office.
"We secured some funds from the European Union but we also need another agency to co-fund the construction work.
"We also asked the donors of the need for more training for our officers in terms of capacity building."
Senior environmental adviser with the Ministry for Foreign Affairs in Finland Dr Matti Nummelin said he found the roundtable discussions interesting.
"This was the first time that I was part of such an arrangement and it really showed the possibility to change views and also helped partners and donors find out the pressing needs of each national met service," he said.
"It gave them the opportunity to throw ideas around and find commonalities and find old or new routes to give assistance for these met services."
DG Latu added that they hoped to permanently feature the roundtable sessions in future PMC meetings. – #PMC4 #PacificMet
The Fourth Pacific Meteorological Council is being held in Honiara, Solomon Islands from the 14 – 17 August co-hosted by the government of Solomon Islands, the Secretariat of the Pacific Regional Environment Programme (SPREP) and World Meteorological Organization (WMO). This will followed by the Second Pacific Meteorological Ministers Meeting (PMMM) on the 18 of August.

The PMC and PMMM is supported by the Government of Solomon Islands, SPREP, WMO, Government of Australia through the Climate and Oceans Support Programme (COSPPac) and Pacific Australia Climate Change Science and Adaptation Planning Programme (PACCSAP), Government of Finland, National Ocean and Atmospheric Administration (NOAA), United Nations Development Programme through the Resilience in the Pacific (SIDS) project.

The PMC consists of members of the Pacific National Meteorological and Hydrological Services supported by its technical partners, regional organisations, non-government organisations and private sectors.

This article was developed by a Pacific Media Team of Reporters currently providing coverage on the Fourth Pacific Meteorological Council in Solomon Islands. This activity coordinated by SPREP is supported by a partnership between the Government of Solomon Islands, SPREP, Australia funded project (Climate and Oceans Support Program (COSPPac) and UNDP Disaster for Pacific SIDS (RESPAC) project.
The views and opinions expressed in this article are those of the writer and do not necessarily reflect the views of the Secretariat of the Pacific Regional Environment Programme (SPREP) or the United Nations Development Programme (UNDP)both of which provided funding for generating media articles.