Sep 21, 2023
0 comment

sunnys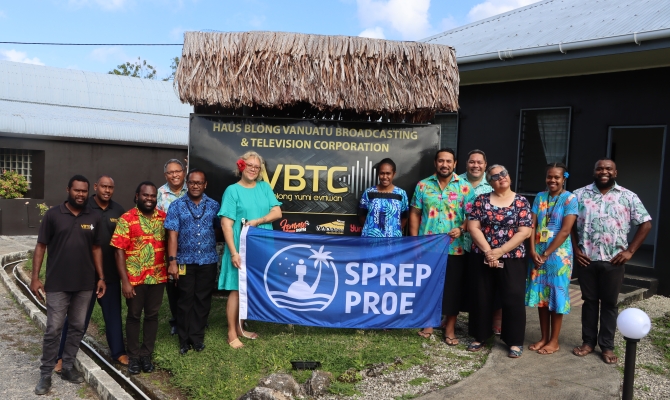 21 September 2023, Port Vila – Vanuatu is ranked as the most vulnerable country in the world to natural disasters due to its geographic location. The impacts of climate change have greatly exacerbated the severe weather events and natural disasters that affect Vanuatu's 83 islands and more than 330,000 people. 
Over the years, the Vanuatu Broadcasting and Television Corporation (VBTC) has seen the need for more in-depth climate change reporting in Vanuatu in order to inform the public of the increasingly negative impacts of climate change and frequency of severe weather events and disasters.
This prompted the VBTC to set up a Climate Change reporting unit within the Corporation, which would specifically deal with the reporting of climate change news supported by facts and scientific information.
The Chief Executive Officer of VBTC, Mr Francis Herman, said the impetus behind the establishment of the unit was because overage of climate change in the country was not enough.
"Most of the coverage we saw last year on climate change in Vanuatu were on meetings being held, ribbons being cut, and doors being opened," said Mr Herman.
"We wanted to peel back the banana skin to get to the fruit, and that is the real impacts of climate change on the lives of every day ni-Vanuatu people and their livelihoods. This is why we set up our Climate Change Unit," he said.
The Climate Change Unit has two reporters but there are plans to expand it.
This includes the plan to hire a qualified meteorologist to join the unit in order to strengthen their capacity in climate change reporting and ensure they can adequately inform the people of Vanuatu of future severe weather events.
The Secretariat of the Pacific Regional Environment Programme (SPREP) through the support of the Vanuatu Klaemet Infomesen blong Redy, Adapt mo Protekt (Van-KIRAP) project, is helping the VBTC Climate Change unit by providing capacity building opportunities for its reporters.
Ms Tiffany Baldwin and Ms Sonia Dick, reporters within VBTC's Climate Change Unit, recently attended the Pacific Meteorological Council (PMC) meeting in Nadi, Fiji, which brought together the Directors of the Pacific National Meteorological and Hydrological Services (NMHS) and partners to strengthen climate and weather services in the Pacific.
This was followed by a one week work attachment with SPREP's Communications and Outreach team in Apia, Samoa where they met with technical experts from SPREP's different programmes and projects and discussed their work
A follow-up training for the rest of VBTC's journalists and reporters is currently being held in Port Vila, Vanuatu.
Ms Nanette Woonton, SPREP Communications and Outreach Adviser, commended VBTC for showing leadership within the Vanuatu media industry through the establishment of this special unit, and that they have inspired other media agencies to implement something similar within their own organisations.
"Climate change is an issue that is affecting everyone, and we cannot turn our backs on it anymore," she said. "We want to empower the media to use their platforms to amplify the call for a more resilient Vanuatu, and a more resilient Pacific."
For more information, please contact Ms Nanette Woonton at [email protected] and Mr. Sunny Kamuta Seuseu at [email protected]   
The Vanuatu Klaement Infomesen blong Redy, Adapt mo Protekt (Van-KIRAP) project is a five-year, USD 22 million project which aims to support climate resilient development in Vanuatu through the development, communication, and application of climate information services to benefit agriculture, fisheries, tourism, infrastructure, water sectors and communities.
It is funded by the Green Climate Fund and implemented by the Secretariat of the Pacific Regional Environment Programme in partnership with the Vanuatu Meteorology and Geo-hazards Department, Commonwealth Scientific and Industrial Research Organisation, Australian Bureau of Meteorology, and APEC Climate Centre.