Aug 17, 2017
0 comment

angelicas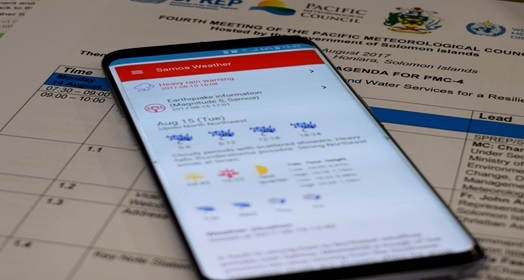 By Seia Ualesi of Savali Newspaper

16 August, 2017, Honiara, Solomon Islands, PMC-4 – Samoa showcased its smartphone app designed to deliver warnings in times of natural disasters as well as daily weather reports at the Fourth Pacific Meteorological Council in Honiara, Solomon Islands.

Samoa Meteorology Division Assistant Chief Executive Officer Mulipola Ausetalia Titimaea said that this tool had been tested by the met office over the last six months.

"The Samoa Met Office wanted to share this tool with the Pacific met offices because we are all affected in natural disasters. We wanted to develop the tools we use in early warning systems so that the message we try to give out reach all our communities," said Titimaea.

Titimaea added that this development is in line with the Multi Hazards Early Warning Systems such as enabling governments of national to local levels and communities to take appropriate measure towards building resilience in anticipation of disasters.

"The Smart Phone tool shows daily weather forecasts and early warnings and it compliments other dissemination methods such as SMS and social networking systems and shows clear advantages in some features."

The building of this app arose from past issues that the Samoa Met Office faced when they were introducing the first three EWS, which were weather and forecasting, climate services and earthquake and tsunami warnings

Principal Scientific Officer for Climate Services Tile Tofaeono said their previous system had limited capacity.

Samoa Weather, a smartphone app that delivers weather information and warnings, was showcased to regional meteorology directors and experts in Honiara, Solomon Islands

"We cannot send rich messages such as a map showing an actual location where an earthquake is occurring from, no push notifications on website or our message will be buried in other from friends and advertisements. And that is why we thought of making up this app so that all the information will be put it together."

Asked about the effectiveness of this technology for the community, Mulipola responded: "The fast delivery of this app - if we issue a tsunami warning, it will not take any minute to be received by people where ever they are."

The app has been in operation for six months with more than 300 downloads. So far, 117 notifications have been sent which 107 earthquake updates and 10 weather warnings. Compared to SMS where 3G coverage is available, there was no delay.

Samoa Met Office believes that this app will provide a better understanding of the community's response through evacuation drills such as PacWave.

The Samoa Weather App was made possible from the close partnership of Samoa and Japan's Government through Japan International Agency Cooperation volunteer Mr Takeshi Matsumura.

Samoa Weather app can be downloaded from Google Play store and is available on Android with an iPhone version being worked on. – #PMC4 #PacificMet


The Fourth Pacific Meteorological Council is being held in Honiara, Solomon Islands from the 14 – 17 August co-hosted by the government of Solomon Islands, the Secretariat of the Pacific Regional Environment Programme (SPREP) and World Meteorological Organization (WMO). This will followed by the Second Pacific Meteorological Ministers Meeting (PMMM) on the 18 of August.

The PMC and PMMM is supported by the Government of Solomon Islands, SPREP, WMO, Government of Australia through the Climate and Oceans Support Programme (COSPPac) and Pacific Australia Climate Change Science and Adaptation Planning Programme (PACCSAP), Government of Finland, National Ocean and Atmospheric Administration (NOAA), United Nations Development Programme through the Resilience in the Pacific (SIDS) project.

The PMC consists of members of the Pacific National Meteorological and Hydrological Services supported by its technical partners, regional organisations, non-government organisations and private sectors.

This article was developed by a Pacific Media Team of Reporters currently providing coverage on the Fourth Pacific Meteorological Council in Solomon Islands. This activity coordinated by SPREP is supported by a partnership between the Government of Solomon Islands, SPREP, Australia funded project (Climate and Oceans Support Program (COSPPac) and UNDP Disaster for Pacific SIDS (RESPAC) project.

The views and opinions expressed in this article are those of the writer and do not necessarily reflect the views of the Secretariat of the Pacific Regional Environment Programme (SPREP) or the United Nations Development Programme (UNDP)both of which provided funding for generating media articles.