Oct 31, 2023
0 comment

sunnys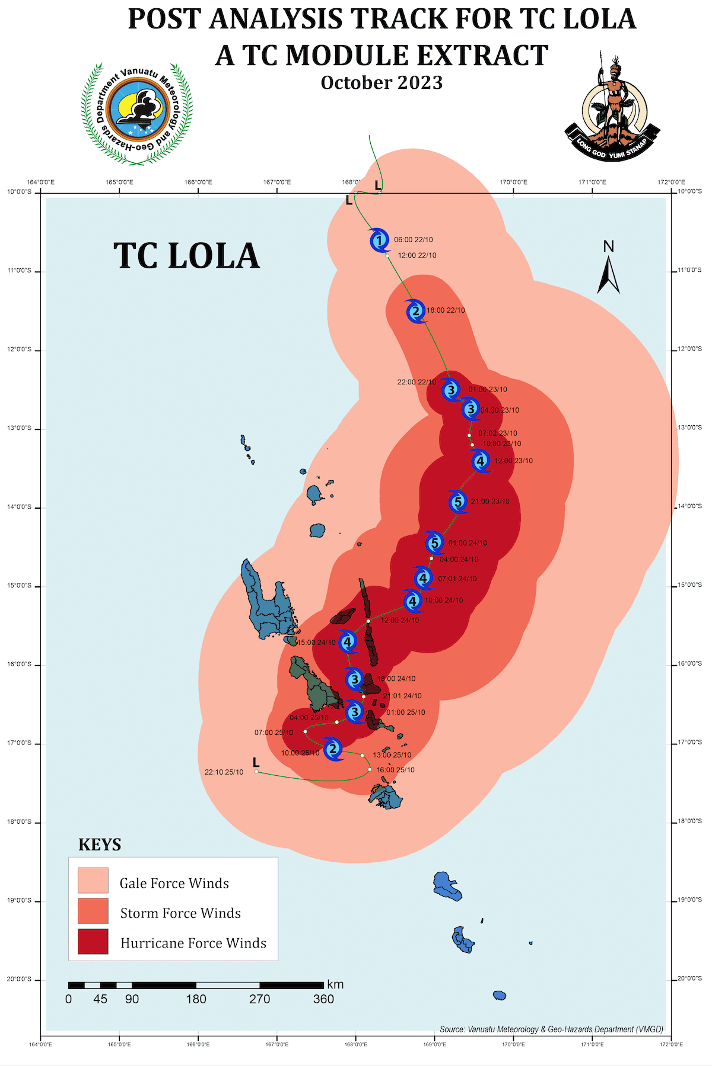 30 October 2023, Port Vila, Vanuatu: Staff of the Climate Information Services for Resilient Development in Vanuatu Project (known locally by its Bislama acronym, VanKIRAP) wish to convey their sympathies to all those impacted by Category 5 Severe Tropical Cyclone Lola.
The cyclone left a trail of devastation across Vanuatu's northern and central islands of Vanuatu in its wake last week. It made landfall on northern Pentecost Island in the early hours of Wednesday, 25 October with sustained wind speeds of up to 215km/h.
Cyclone Lola is the third severe tropical cyclone to hit Vanuatu so far this year, after the twin TCs Judy and Kevin in February-March.
Cyclone Lola arrived a week before the official start of Vanuatu's cyclone season on 1 November, and is also the earliest category 5 cyclone ever recorded in the Southern Hemisphere.
This unusually early storm is a wake-up call for the region for the coming cyclone season. The region's climatologists and meteorologists are predicting an above-average number of tropical cyclones to form in the western Pacific this cyclone season, which coincides with the arrival of a strong El Niño ENSO phase, which is also likely to mean that these cyclones may be more intense than normal.
Some islands in Vanuatu's Torba and Penama, and Malampa provinces have been greatly impacted, with reports emerging of significant damage on Pentecost Island. The storm surge and intense winds also wreaked havoc on coastal areas of Ambae Island and on the western side of Ambrym Island. Numerous other islands in the northern provinces have also been affected by flooding and destruction of homes and buildings. Numerous communities have been displaced, leaving families homeless and in urgent need of assistance.
Power and telecommunications infrastructure have also been damaged, exacerbating the challenges for the disaster response to Cyclone Lola. Power outages have been reported throughout the affected areas, further hampering relief efforts and hindering communication lines vital for coordinating emergency response activities.
The agricultural sector, upon which many local communities heavily for subsistence and for cash crops, has suffered extensive losses. Lush green landscapes have been transformed into scenes of destruction as crops, plantations, and livestock were hit by the powerful cyclone.
Despite these immense challenges, it is important to emphasise the spirit of resilience and strength that characterises the people of Vanuatu, who are united in their efforts to ensure that the necessary resources and aid reach those affected in a timely manner.
The VanKIRAP Project stands in solidarity with the people of the northern part of Vanuatu during this difficult time. Our thoughts and prayers go out to those impacted by Tropical Cyclone Lola. Let us join hands to extend our help and support to assist in the recovery efforts. Together, we can help Vanuatu recover from this climate-related disaster.
The Vanuatu Klaement Infomesen blong Redy, Adapt mo Protekt (VanKIRAP) project is a five-year, USD 22 million project which aims to support climate resilient development in Vanuatu through the development, communication, and application of climate information services to benefit agriculture, fisheries, tourism, infrastructure, water sectors and communities. It is funded by the Green Climate Fund and implemented by the Secretariat of the Pacific Regional Environment Programme in partnership with the Vanuatu Meteorology and Geo-hazards Department, Commonwealth Scientific and Industrial Research Organisation, the Australian Government's  Bureau of Meteorology, and the APEC Climate Center.
For more information please Mr. Sunny Kamuta Seuseu, Acting Manager, VanKIRAP Project on email: [email protected].
ENDS