Sep 15, 2023
0 comment

sunnys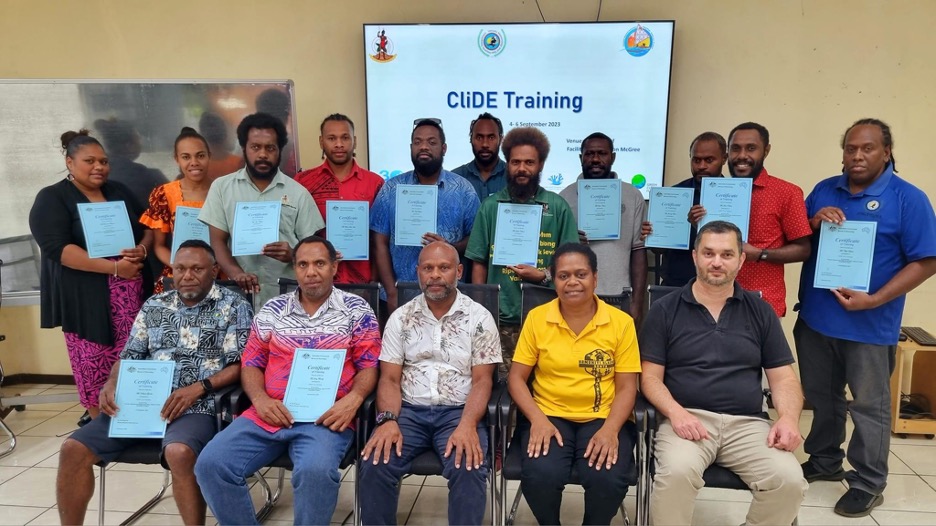 Vanuatu's meteorologists and climatologists are responsible for keeping the country forewarned about weather and climate events that might impact lives and livelihoods. But they need good quality weather data to do this—and this data needs a strong house to protect it so that it can be used to make reliable and useful predictions about Vanuatu's future climate.
CliDE, or Climate Data for the Environment, is an open-source climate data management system developed by Australia's Bureau of Meteorology, and it is used by a number of Pacific Island countries, including Vanuatu.
In Vanuatu, the Vanuatu Meteorology and Geohazards Department (VMGD) uses CliDE to manage the data collected from weather stations all over the country.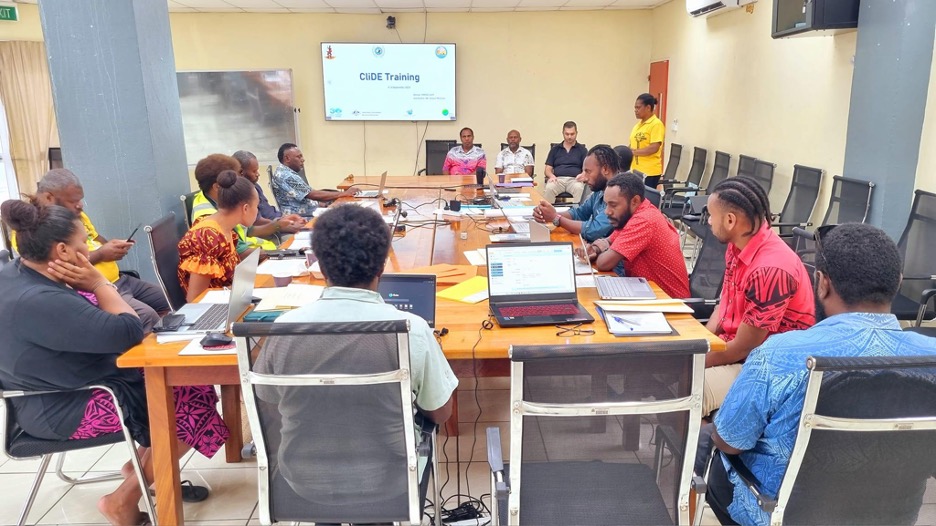 Last week, fifteen VMGD staff, including trainees, completed a training course on CliDE held at the VMGD head office in Port Vila from 4-6 September. Three female and twelve attendees received completion certificates at the end of the course.
The training aims to enhance the capacity of VMGD's network of local met observers, climatologists, and forecasters to build up the capacity of all staff members in the collection, storage, analysis, and use of climate data effectively, says facilitator Dr. Simon McGree from Australia's Bureau of Meteorology.
"The training will greatly enhance the local staff's ability to utilise climate data. They'll be equipped to efficiently export products for their stakeholders and effectively handle data archiving from field observation books into CliDE, as well as resolving any observation errors", he says.
Dr. McGree emphasised that "archiving data in the national climate database is an essential service that all meteorological services worldwide must undertake. It is crucial that this is done meticulously, so the archived data remains accessible for future generations, even decades or centuries down the line."
VMGD weather observer, Erica Loli, says, "climate data collection is a crucial aspect of our work at VMGD. At this training course, we've learned how to collect and store climate data accurately in order to benefit other stakeholders such as airports and the agricultural sector."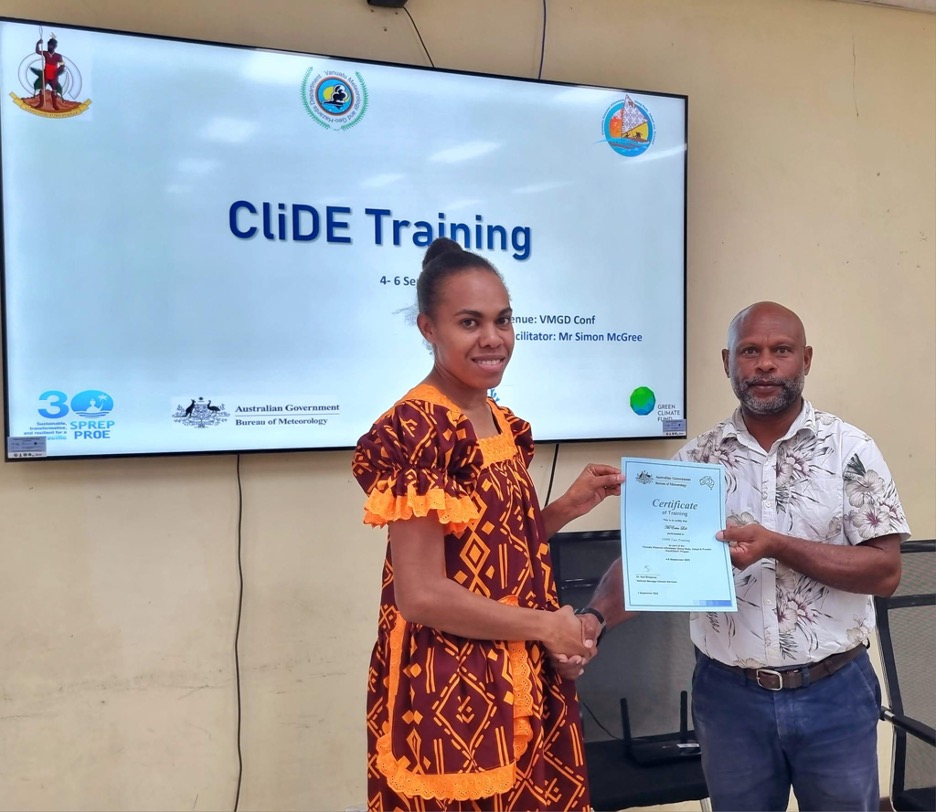 Another participant from the training, VMGD climatologist Joseph Worwor says, "we have encountered challenges in the field, particularly in ensuring the data we collect meets the required standards set by the World Meteorological Organization. The training has equipped us with knowledge on quality data management and correcting any errors in our archive before sharing it with other climate sensitive sectors."
This training also helps strengthen the ability to provide timely and accurate information to mitigate the impacts of natural hazards and support sustainable development in Vanuatu.
The Vanuatu Klaement Infomesen blong Redy, Adapt mo Protekt (Van-KIRAP) project is a five-year, USD 22 million project which aims to support climate resilient development in Vanuatu through the development, communication, and application of climate information services to benefit agriculture, fisheries, tourism, infrastructure, waste sectors and communities. It is funded by the Green Climate Fund and implemented by the Secretariat of the Pacific Regional Environment Programme in partnership with the Vanuatu Meteorology and Geo-hazards Department, Commonwealth Scientific and Industrial Research Organisation, Australian Bureau of Meteorology, and APEC Climate Centre.

For more information, please contact Mr Sunny Kamuta Seuseu, Van-KIRAP Acting Project Manager, at [email protected].