Aug 15, 2017
0 comment

angelicas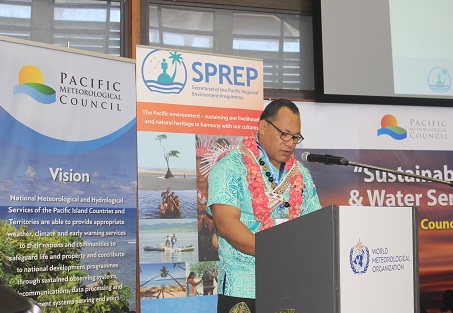 By Yvette T D'Unienville of Tuvalu Broadcasting Services (radio broadcast)

14 August, 2017, Honiara, Solomon Islands, PMC-4 – Journalists were asked to stand up today at the Fourth Pacific Meteorological Council so national directors could note the media's critical role in communicating science for ordinary people.

Speaking at the opening of the council meeting, Kosi Latu, Director General of the Secretariat of the Pacific Environmental Programme (SPREP), took the unusual step of asking the media to stand up and be acknowledged for covering the four-day meeting in Honiara, Solomon Islands.

"Can I just ask you to be upstanding so that we can all know who you are. I know you are hiding at the back somewhere - don't be shy, you are among friends." He said that media was critical in getting weather and climate messages through. "So, in this PMC we have more than 20 media personnel and that's something that we want to build on because we do a lot of good work but we are not actually good in telling our stories," said Latu.

He added that outreach programmes and strong media partnership has helped communication become more effective. "This is a very high technical area that most people do not even understand." He told the meeting that the PMC proceedings and outcomes would be communicated around the Pacific in a language that is simple and easy to understand. 

Last week local and regional media attended an Information Making Impact: Pacific Media and Meteorology workshop in preparation for the PMC, which will be followed by the Pacific Meteorology Ministerial Meeting this week. 

The media workshop was funded by Australian Government's Department of Foreign Affairs and Trade through the Climate and Ocean Support Programme in the Pacific (COSPPAC), United Nations Development Programme through the Disaster Resilience in the Pacific SIDS project (RESPAC), and supported by SPREP. - #PMC4 #PacificMet

 

The Fourth Pacific Meteorological Council is being held in Honiara, Solomon Islands from the 14 – 17 August co-hosted by the government of Solomon Islands, the Secretariat of the Pacific Regional Environment Programme (SPREP) and World Meteorological Organization (WMO). This will followed by the Second Pacific Meteorological Ministers Meeting (PMMM) on the 18 of August.

The PMC and PMMM is supported by the Government of Solomon Islands, SPREP, WMO, Government of Australia through the Climate and Oceans Support Programme (COSPPac) and Pacific Australia Climate Change Science and Adaptation Planning Programme (PACCSAP), Government of Finland, National Ocean and Atmospheric Administration (NOAA), United Nations Development Programme through the Resilience in the Pacific (SIDS) project.

The PMC consists of members of the Pacific National Meteorological and Hydrological Services supported by its technical partners, regional organisations, non-government organisations and private sectors.

This article was developed by a Pacific Media Team of Reporters currently providing coverage on the Fourth Pacific Meteorological Council in Solomon Islands. This activity coordinated by SPREP is supported by a partnership between the Government of Solomon Islands, SPREP, Australia funded project (Climate and Oceans Support Program (COSPPac) and UNDP Disaster for Pacific SIDS (RESPAC) project.