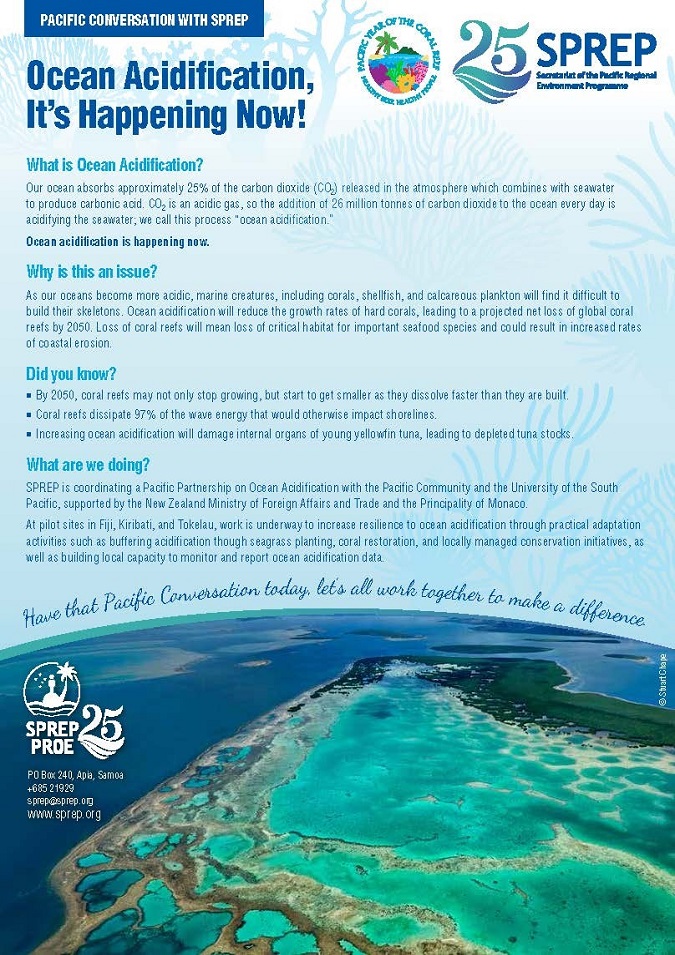 Project Description
The New Zealand Pacific Partnership on Ocean Acidification (PPOA) project is a collaborative effort between the Secretariat of the Pacific Regional Environment Programme (SPREP), the University of the South Pacific, and the Pacific Community, which aims to build resilience to ocean acidification in Pacific Island communities and ecosystems, with financial support from NZ Ministry of Foreign Affairs and Trade and the Principality of Monaco.  The PPOA project follows the "International Workshop on Ocean Acidification: State-of-the-Science Considerations for Small Island Developing States" that was co-hosted by New Zealand and the United States, in partnership with SPREP, as an official side-event of the 3rd UN SIDS Conference. 
The PPOA project is working to build resilience Ocean Acidification in Pacific Island countries by:
1.       Identification and Implementation of Practical Adaptation Actions – At pilot sites in Fiji, Kiribati and Tokelau the project will carry out an assessment of needs and priorities that will guide the implementation of adaptation activities at the site.  Work is currently underway to develop on the ground adaptation and resilience activities.
2.       Research and Monitoring – The project will establish chemical and biological baselines which will be followed up by routine monitoring of key parameters.
3.       Capacity Building and Awareness Raising – Throughout the implementation of adaptation activities, the project will seek to build capacity within the local communities and partners, to address OA and to develop effective coastal zone management.  Additionally, the project will seek to raise awareness of ocean acidification at all levels across the region. 
Quaterly Reports
Kiribati
NZPPOA project has selected Nanikaai village as its Kiribati pilot site. This was based on the endorsement made by Kiribati Government. Baseline assessment of Nanikaai was completed in March by the Ministry of Fisheries and Marine Resources Development and the results will be shared at the follow up workshop in April.
Download - Kiribati Quaterly Report
Tokelau
Tokelau Government has confirmed and selected all its three atolls as the pilot site for the New Zealand Pacific Partnership Ocean Acidification (NZPPOA) project.  Various consultations have taken place where the Council of elders 'Taupulega' and communities have identified priorities for the project which are coral and coastal replanting, waste management and community awareness just to name a few.  Tokelau also have obtained their iSAMI spectrophotometer for ocean acidification monitoring.
Download - Tokelau Quaterly Report