AGENDA
9th session of the Pacific Islands Climate Outlook Forum (PICOF-9)
 Virtual (via Zoom) Meeting 21-22 October 2021 (00:00 – 03:15 UTC, 13:00-16:15 Samoa local time)
The Pacific Islands Climate Outlook Forum (PICOF) is based on the World Meteorological Organization (WMO) https://public.wmo.int/en/our-mandate/climate/regional-climate-outlook-products Regional Climate Outlook Forum (RCOF) concept.
The PICOF sessions are being co-organized by the Secretariat of the Pacific Regional Environment Programme (SPREP) and the World Meteorological Organization (WMO), with technical support provided by the Australian Bureau of Meteorology (BOM), National Institute of Water and Atmospheric Research (NIWA), APEC Climate Centre (APCC), Meteo-France, US National Oceanic and Atmospheric Administration (NOAA), Pacific Community (SPC) and the University of Hawaii) as members of the Pacific Regional Climate Network (RCC) Node for Long-Range Forecasting in partnership with the Pacific Islands Climate Services (PICS) Panel. The latter ensures the needs of national meteorological and hydrological services, and their stakeholders are met. The PICOF sessions are co-sponsored by the WMO through CREWS Pacific SIDS Project, funded by the CREWS Initiative and Environment and Climate Change Canada (ECCC). BOM, SPREP and SPC support is largely provided via the Australian and New Zealand Aid funded Climate and Oceans Support Program in the Pacific, and Republic of Korea-Pacific Islands CliPS project.
Additional information on PICOF and the WMO Pacific RCC Network is available via https://www.pacificmet.net/rcc.
PICOF-9 will focus on the Energy Sector as one of the priorities under the Pacific Island Roadmap for Strengthened Climate Services.
Overall objective: Produce objective, user-relevant climate outlook guidance in real time to reduce climate-related risks and support sustainable development for the coming season in sectors of critical socioeconomic significance with focus on the energy sector for the Pacific Islands region.
The specific objectives of PICOF 9 include the following:
Build partnerships among NMHSs, regional organizations, and the RA V Pacific RCC Network,

facilitate uptake and use of their products and services in support of the member countries of the region

;

Compare forecast guidance for the Pacific Islands region and discuss how these are produced in terms of accuracy, utility, weaknesses and strengths;

Present, discuss, and summarise the climate and ocean conditions for the last six months and model outlooks for the next six months in the Pacific Islands region;

Discuss how NMHSs are currently accessing and assessing the available guidance, making them nationally-relevant, tailoring them for specific end users, and disseminating them to users;

Continue capacity building/human resource development activities for the NMHSs, particularly on sectoral application aspects of seasonal and sub-seasonal predictions;

Provide simple, easy to understand seasonal prediction information to the energy sector, obtain feedback on the usefulness of this information. Discuss how seasonal and sub-seasonal forecast products can become more relevant for the renewable energy sector and how NMS can better engage with this sector and vice versa.
Expected Outcomes:
Better understanding of the drivers of variability and state of Pacific Island climate and ocean over May to October 2021;

Improved understanding of climate, ocean and tropical cyclone outlooks over November 2021 to April 2022, reasons for differences between model outlooks and model confidence for the outlook period;

Production of a regional statement summarising the ENSO state, tropical cyclone, climate and ocean patterns from May 2021 and outlooks for these variables to April 2022;

Better understanding of the climate and ocean seasonal prediction needs of the renewable energy sector;

Contacts established and plans formulated to improve information exchange between the energy sector and NMHSs. For the purposes of PICOF, this relates specifically to the delivery of seasonal forecasts.
Proposed Timeline for PICOF Statement development (dates refer to Samoa local time)
Monday 15 September 2021: Pacific NMSs notified of upcoming virtual PICOF-9.
Monday 18 October 2021: Listed agencies to send content to lead agencies to summarise.
Tuesday 19 October 2021: Deadline for PowerPoint presentations to be send to the PICS panel secretariat.
Thursday 21 October and Friday 22 October 2021: Virtual October 2021 PICOF teleconference held (see agenda below).
Friday 23 October 2020: Draft version of the October PICOF statement circulated to PICS panel for input/comments. Deadline Monday 26 October.
Tuesday 26 October 2021: Final draft of the October PICOF statement sent to the PMC members for approval, deadline for responses Wednesday 27 October 2021.
Friday 29 October 2021: October 2021 PICOF statement released.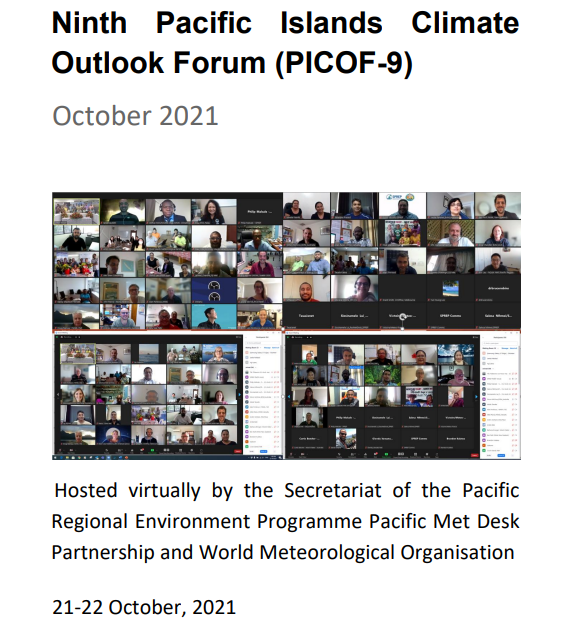 PICOF-9 REPORT.... [click to download]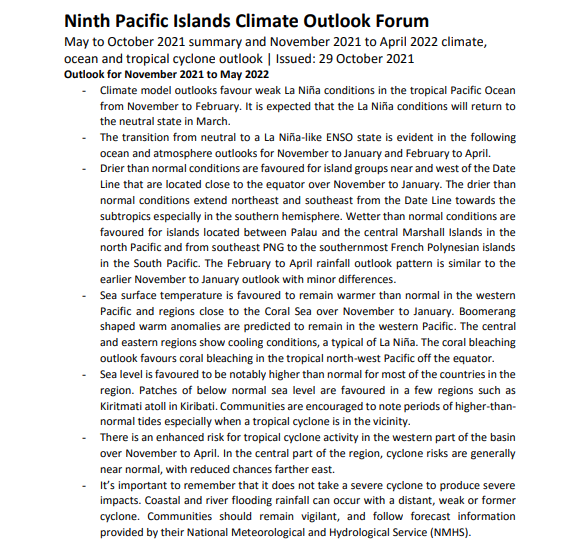 PICOF-9 STATEMENT....[click to download]
Virtual PICOF-9 – Day 1

Thursday 21 October 2021, 00:00 – 03:15 UTC, 13:00-16:15hrs Samoa time

[Lead agency for the session presented in bold]

Chair: PICS panel co-chairs-Olivia Warrick

13:00-13:30

(Samoa local time)

Registration and communications testing.

13:30-14:00

Agenda 1: Opening and Setting the scene. (Salesa to chair opening)

Opening prayer-Kasis Inape
Welcome remarks- WMO representative
Opening remarks - SPREP DG Kosi Latu
Group photo -Leanne Moananu
Day 1 meeting objectives- Olivia Warick [Download presentation]

14:00-14:20

Agenda 2: ENSO Update and Outlook.  [Download presentation]

ENSO status and outlook, and introduction to ENSO tracker: NIWA, BoM, Meteo-France, NOAA, University of Hawaii, APCC, SPREP and SPC (15 minutes).- Dr. Soo-Jin Sohn

Highlights from the LC LRFMME (KMA/NOAA) Global Seasonal Climate Update (GSCU)

Questions & Answers (5 minutes).

14:20-15:15

Agenda 3: Looking Back- Review and Evaluation of May-October 2021 Climate outlook.

Atmosphere [Download presentation]

Overview of May to October 2021 state of the climate, plus evaluation of the last PICOF outlook: NOAA, University of Hawaii, BoM, SPC, SPREP, and NIWA (15 minutes). Philip Malsale

Ocean [Download presentation]

Overview of May to October 2021 state of the ocean, plus evaluation of the last PICOF outlook: NOAA, University of Hawaii, BoM, SPC, SPREP, NIWA (15 minutes). Zulfikar Begg

Northern hemisphere tropical cyclones [Download presentation]

Overview of the TCs over last six months: NOAA, University of Hawaii, BoM, SPC, SPREP, and NIWA (15 minutes). Marcus Landon

Questions & Answers (10 minutes)

15:15:16:10

Agenda 4: Looking Forward - Seasonal and Intra-seasonal Pacific guidance for 2021/22.

Atmosphere [Download presentation]

PICOF outlook and RCC Node for LRF individual model/MME guidance and skill comparison: NIWA, BoM, Meteo-France, NOAA, University of Hawaii, APCC, SPREP, and SPC (15 minutes including 5 minutes for questions and answers). Simon McGree

Ocean [Download presentation]

PICOF outlook and RCC Node for LRF individual model/MME guidance and skill comparison: NIWA, BoM, Meteo-France, NOAA, University of Hawaii, APCC, SPREP, and SPC (15 minutes including 5 minutes for questions and answers). Zulfikar Begg

Tropical cyclones [Download presentation]

PICOF outlook and RCC Node for LRF individual model/MME guidance and skill comparison: NIWA, BoM, Meteo-France, NOAA, University of Hawaii, APCC, SPREP, and SPC (15 minutes including 5 minutes for questions and answers). Ben Noll

Questions & Answers (10 minutes)

16:10-16:15

Online poll-Mapping of capacity gaps – Tile Tofaeono

16:15-16:20

Agenda 5: Closing

Next steps, wrap up – Olivia Warrick
Virtual PICOF-9  – Day 2,

Friday 22 October 2021, 00:00-03:30 UTC, 13:00-16:30hrs Samoa local time

(Chair – Salesa Nihmei (SPREP))

 

13:00-13:15

(Samoa local time)

Registration and communications testing.

 

13:15-13:45

Agenda 1: Opening and Setting the Scene.

Opening prayer -Faapisa Aiono
Opening remarks-RCC lead-Simon McGree
Day 2 meeting objectives-Simon McGree [Download presentation]

Group photo -Leanne Moananu

 

13:45-14:15

Agenda 2: PICOF state of climate for May to October 2021 and Seasonal Outlooks for November 2021 to April 2022.

Background on Seasonal Forecast for the Pacific-Simon McGree [Download presentation]
Summary of state of climate and seasonal outlook from Day 1 of PICOF (30 minutes includes 10 minutes for questions)- Ben Noll [Download presentation]

 

14:15-15:40

Agenda 3: Pacific case studies – linking information on climate and ocean monitoring/prediction/projections to renewable energy

SPC (Akuila Tawake) - Energy roadmap in the Pacific and how we can utilise the climate/weather information to serve this sector better -15 minutes. [Download presentation]

 

 

 

 

 

 

 

 

 

NIWA (Alan Porteous) - Afulilo Water Storage Outlook Module- 15 minutes. [Download presentation]

Question and Answer (5 Minutes)

 

 

 

 

 

 

Moerk Water Solutions Asia-Pasific Pty Ltd (Curtis Butcher)- Building climate resilience in the Pacific:

designing solar power and water systems for shifting weather patterns, Uripiv Island Vanuatu

– 15 minutes [Download presentation]

 

 

 

 

 

 

 

 

 

 

Blue Planet Foundation (Melissa Miyashiro-Incoming Executive Director) - Charting Hawaii's Course for a Resilient and Just Clean Energy Future-15 minutes. [Download presentation]

Question and Answer (5 Minutes)

 

 

 

SPC (Amelia Bola)-Low carbon, safe, accessible, and affordable maritime transport-15 minutes. [Download presentation]

Question and Answer (5 Minutes)

15:40-16:00

Agenda 4: Sector Feedback panel discussion -Chair to lead discussions

Country dialogue with speakers – Questions base on presentations

 

16:00 – 16:10

Agenda 5: Survey - two surveys

Energy – (Survey money link: https://www.surveymonkey.com/r/7Q8D9JC)

Climate state useful? Yes/no & which section was most relevant

What are some of the energy likely impacts based on the statement?

Do you use long range forecast, TC information and ENSO events such as the upcoming La Nina for your plans? And how?

How do you see yourself using other information in the PICOF statement (seasonal forecast) for planning?

NMS- (Survey money link: https://www.surveymonkey.com/r/T88N6HM)

Which or what information from the energy presentations that you found useful and relevant to improve your services?

Do you have an energy sector product?

Any agreement or sharing of information or request from energy?

Any plans for future development for the energy related products?

 

16:10-16:20

Agenda 5: Closing.

Next steps, wrap up – Salesa Nihmei