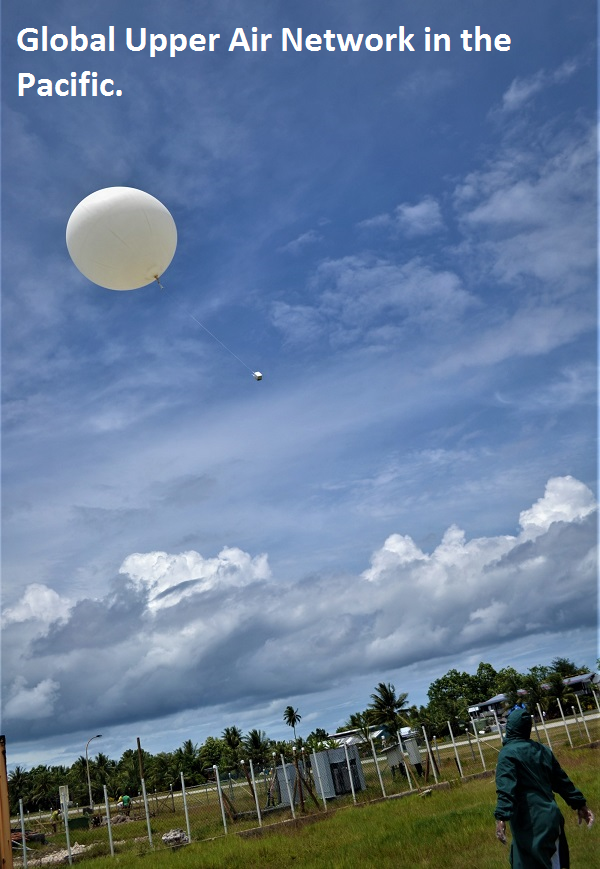 Project Description
(provide photo's)
This 5 year project started in 2014 with the financial support from the United Kingdom Meteorological Office (UKMO). For many years (some since the 1970s), through UK VCP (the UK contribution to the World Meteorological Organisation Voluntary Cooperation Programme), UKMO have been working in partnership with a number of Pacific NMHSs on supporting climate observations, including the 'upper air' stations at Tarawa (Kiribati) and Funafuti (Tuvalu).
The 2 stations are seen as an important part of the Global Climate Observing System (GCOS)  programme  in providing important climate information as well as feeding data into the ongoing modelling (and subsequently forecasting) of weather in what is a fairly data sparse regions. Recent studies at the UKMO have shown that the observations from these stations are very important not just for the region, but globally, when compared to the 'impact' of the average European and global upper air soundings.
Under the current agreement between SPREP, the UKMO and MetService New Zealand, the 2 upper air stations at Tarawa, Funafuti and Rarotonga will continue to receive support of around ~£160-200k/year for accessories (balloons and sondes) and maintenance of ground stations and funds for day-to-day operations. The fund is managed by SPREP, under an MOU with the UKMO, who undertake the management and administration with technical assistance from MetService New Zealand.   
Beneficiary Countries in the Pacific: Kiribati and Tuvalu