Aug 17, 2017
0 comment

angelicas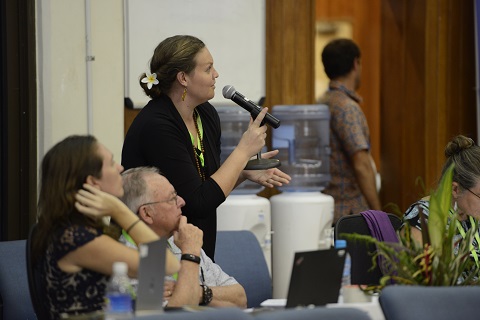 By Linny Folau of Matangi Tonga Online
16 August, 2017, Honiara, Solomon Islands, PMC-4 – Honiara, Solomon Islands - As the Climate and Oceans Support Program in the Pacific (COSPPac) draws to an end in 2018, two regional organizations will continue the work of this Australian Government-funded initiative.
Most of COSPPac activities are now under its partners, Secretariat Program Environment Program (SPREP) and Pacific Community (SPC) for continuation, maintenance and coordination.
Agata Imielska, a Senior Climatologist at the Australian International Development National Forecast Service told the Fourth Pacific Meteorological Council Meeting today the focus of the project is on ocean services working with Pacific Islands and stakeholders to analyse and interpret ocean and climate related data.
"We are focusing on developing the services and products to strengthen the resilience capacity in the Pacific."
She said this program was originally a four-year program, which was extended for two-years. She said this transition comes from an independent progress review by the Australian Department of Foreign Affairs in 2014.
"This direction has been very successful building on a partnership with SPREP and SPC."
"COSPPac has done a lot of work in not just the funding but the activities being implemented through these two regional organizations."
Staffing has decreased in the program in Australia and new positions created in SPREP and SPC. There are also additional funding granted for new programs like the upcoming gauge installations in Tonga and Tuvalu, she said.
Molly Powers-Tora, the Coordinator for Ocean Intelligence at SPC said the products and services transitioned to SPC over the past few years included the Ocean and Coastal Geo Science work.
This is the maintenance of sea level monitoring stations in 14 Pacific island countries, she said.
"In addition, we have really built up the capacity of our levelling and survey team that used to be one person. This is a big transition of capacity from Geo Science in Australia to SPC. The survey team has also been engaged in capacity mapping in lands and survey, and geo-spatial services in the Pacific."
Tora said a long-standing product under their oversight is the tide prediction calendars.
"Through COSPPac we have upgraded our tide information in extreme events, working with partners to make it more accessible."
She said they have also taken on the responsibility to organize ocean and tides capacity building workshops carried out in few countries, with a few more countries to go.
"We have national met service attachment opportunities to build oceanography capacity at the local met services and regional levels. There have been successes in the transition progress with the majority of activities on track or completed," said the SPC oceans expert.
"We commend the Australian Government for this very new approach to do this transition. It's the first time this has been done taking jobs and work previously offered from Geo Science Australia and sent it to region."
There have been a lot of benefits and SPC looks forward to ongoing partnership in the future, added Tora.
For the Climate Traditional Knowledge Officer with SPREP, Siosinamele Lui, climate and ocean support services is among the COSPPac's programs they now look after.
She said this includes climate and prediction services, providing monthly climate seasonal outlook bulletin to SPREP member countries and territories.
"We now provide climate communication services and as mentioned by a lot of the met directors, communication is crucial to reaching out to our communities."
Lui said some of the initiatives taken up in SPREP included assisting National Met Services to develop their communication strategy.
"The Pacific media's participation at PMC4 is supported by the COSPPac project and this is part of our efforts to enable the media to understand met issues and a chance to strengthen relationship at the regional and national level."
COSPPac activities are present in 14 Pacific Island countries. – #PMC4 #PacificMet
The Fourth Pacific Meteorological Council is being held in Honiara, Solomon Islands from the 14 – 17 August co-hosted by the government of Solomon Islands, the Secretariat of the Pacific Regional Environment Programme (SPREP) and World Meteorological Organization (WMO). This will followed by the Second Pacific Meteorological Ministers Meeting (PMMM) on the 18 of August.

The PMC and PMMM is supported by the Government of Solomon Islands, SPREP, WMO, Government of Australia through the Climate and Oceans Support Programme (COSPPac) and Pacific Australia Climate Change Science and Adaptation Planning Programme (PACCSAP), Government of Finland, National Ocean and Atmospheric Administration (NOAA), United Nations Development Programme through the Resilience in the Pacific (SIDS) project.

The PMC consists of members of the Pacific National Meteorological and Hydrological Services supported by its technical partners, regional organisations, non-government organisations and private sectors.

This article was developed by a Pacific Media Team of Reporters currently providing coverage on the Fourth Pacific Meteorological Council in Solomon Islands. This activity coordinated by SPREP is supported by a partnership between the Government of Solomon Islands, SPREP, Australia funded project (Climate and Oceans Support Program (COSPPac) and UNDP Disaster for Pacific SIDS (RESPAC) project.
The views and opinions expressed in this article are those of the writer and do not necessarily reflect the views of the Secretariat of the Pacific Regional Environment Programme (SPREP) or the United Nations Development Programme (UNDP)both of which provided funding for generating media articles.