Aug 16, 2017
0 comment

angelicas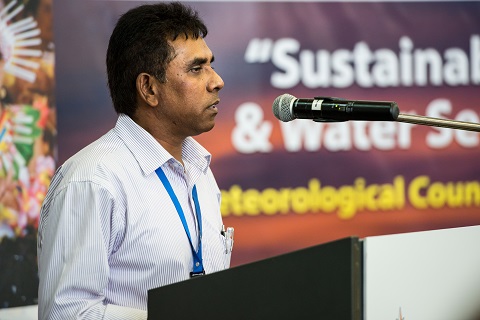 By Repeka Nasiko of Fiji Times

15 August, 2017, Honiara, Solomon Islands, PMC-4 –CLIMATE services by the Fiji Meteorological Services has been Quality Management System certified by the International Standards Organisation.

While presenting a country report at the Fourth Pacific Meteorological Council meeting in Honiara yesterday, FMS director Ravind Kumar said the certification was the result of significant positive changes for the meteorological services over the last two years.

"In terms of climate services, we are progressing well and I am happy to announce that Fiji Meteorological Services climate service division is now Quality Management Systems (QMS) certified and we are now progressing well in our national climate outlook forum," he said.

"With our training and capacity development, we would like to acknowledge our partner JICA (Japanese International Cooperation Agency), which has provided a four-year funding.

"Through this a number of our regional meteorological services have also benefitted from in terms of instrument calibration as well as those who got the Basic Instructions Package for Meteorological Technicians."

He said Fiji's climate service has produced eight services provided by FMS at the national and regional levels.

With regard to partner countries regional projects, the Director acknowledged the COSPPac project led by the Bureau of Meteorology, with support by SPC (Pacific Community) and SPREP, which is focuses on building the capacity of ocean and climate services of FMS.

"At the moment, we are able to produce eight climate service products that go out on a monthly basis while three are given out on a quarterly basis and one is given out on an annual basis."

He added that the meteorological services inclusion into the National Disaster Management Ministry by Government was also a significant development.

"Now the Fiji Meteorological Services is now in line with the National Disaster Management, department.

"These will come under the Ministry of National Disaster Management and the Meteorological Services, which is a new ministry that will enable better coordination of services especially in disaster response and ensure there are minimum threats on our communities.

"I think this is a well-timed arrangement as we come into a more regional and international set-up, which will see that later on the climate change and the seismology unit coming under this one ministry." - #PMC4 #PacificMet
(Photo credit: Jenny Davson-Galle SIMS)
 

The Fourth Pacific Meteorological Council is being held in Honiara, Solomon Islands from the 14 – 17 August co-hosted by the government of Solomon Islands, the Secretariat of the Pacific Regional Environment Programme (SPREP) and World Meteorological Organization (WMO). This will followed by the Second Pacific Meteorological Ministers Meeting (PMMM) on the 18 of August.

The PMC and PMMM is supported by the Government of Solomon Islands, SPREP, WMO, Government of Australia through the Climate and Oceans Support Programme (COSPPac) and Pacific Australia Climate Change Science and Adaptation Planning Programme (PACCSAP), Government of Finland, National Ocean and Atmospheric Administration (NOAA), United Nations Development Programme through the Resilience in the Pacific (SIDS) project.

The PMC consists of members of the Pacific National Meteorological and Hydrological Services supported by its technical partners, regional organisations, non-government organisations and private sectors.

This article was developed by a Pacific Media Team of Reporters currently providing coverage on the Fourth Pacific Meteorological Council in Solomon Islands. This activity coordinated by SPREP is supported by a partnership between the Government of Solomon Islands, SPREP, Australia funded project (Climate and Oceans Support Program (COSPPac) and UNDP Disaster for Pacific SIDS (RESPAC) project.

The views and opinions expressed in this article are those of the writer and do not necessarily reflect the views of the Secretariat of the Pacific Regional Environment Programme (SPREP) or the United Nations Development Programme (UNDP)both of which provided funding for generating media articles.