Aug 20, 2017
0 comment

angelicas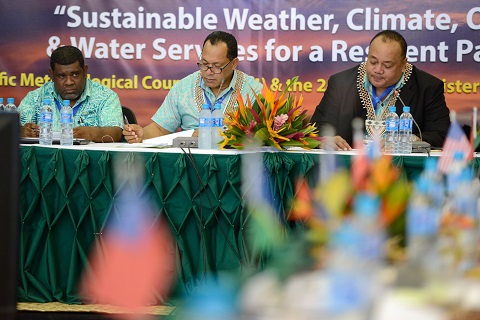 By Linny Folau of Matangi Tonga Online
18 August, 2017, Honiara, Solomon Islands, PMC-4 – The importance of meteorological services to support safe and efficient of aviation and the safety of people who are travelling by air was reaffirmed during the Second Pacific Ministerial Meeting on Meteorology on 18 August in Honiara.
Director of Meteorology of Tonga Meteorological Service and chair of the Pacific Islands Aviation Weather Services (PIAWS) panel of experts 'Ofa Fa'anunu said in their efforts to try and ensure the importance of meteorology to aviation efficiency, one main outcome the panel proposed was for a regional project to try and address deficiencies.
He said the PIAWS panel, Pacific Meteorological Council (PMC) and SPREP (Secretariat of the Pacific Regional Environment Programme) need to work together to formulate a regional project to see how to raise funds to address the needs of the region as a whole.
"One of the other priority was cost recovery. The panel was also tasked to work with ICAO (International Civil Aviation Organisation) to urgently look at cost recovery strategy, with a model that can be used in the region bringing together the civil aviation authority and met service to look at this in a fair and transparent manner."
Fa'anunu said the some of the main hazards to aviation causing air accident included heavy rain, wind shear during takeoff and landing for aircraft, among others.
Important met services provided include the accurate reading of air pressure is very important for pilots.
Very cold temperatures can also cause aircraft to burn up more fuel.
In addition, providing tropical cyclone information, local aviation reports at airport are important for flights,
Minister for Natural Resources in Niue Dlaton Tagelagi did raise the absence of the role of the Pacific Aviation Safety Organisation (PASO) 's in PIAWS presentation.
SPREP Director General Kosi Latu noted the minister's observation and offered that SPREP was willing to facilitate a meeting between the two bodies.
"We are willing to fly the chair of PIAWS to Vanuatu to talk with PASO if PASO is willing."
Tonga's Deputy Prime Minister Hon Siaosi Sovaleni also reaffirmed Tonga's commitment to ensuring safer skies through better met services. – #PMC4 #PacificMet
The Fourth Pacific Meteorological Council is being held in Honiara, Solomon Islands from the 14 – 17 August co-hosted by the government of Solomon Islands, the Secretariat of the Pacific Regional Environment Programme (SPREP) and World Meteorological Organization (WMO). This will followed by the Second Pacific Meteorological Ministers Meeting (PMMM) on the 18 of August.

The PMC and PMMM is supported by the Government of Solomon Islands, SPREP, WMO, Government of Australia through the Climate and Oceans Support Programme (COSPPac) and Pacific Australia Climate Change Science and Adaptation Planning Programme (PACCSAP), Government of Finland, National Ocean and Atmospheric Administration (NOAA), United Nations Development Programme through the Resilience in the Pacific (SIDS) project.

The PMC consists of members of the Pacific National Meteorological and Hydrological Services supported by its technical partners, regional organisations, non-government organisations and private sectors.

This article was developed by a Pacific Media Team of Reporters currently providing coverage on the Fourth Pacific Meteorological Council in Solomon Islands. This activity coordinated by SPREP is supported by a partnership between the Government of Solomon Islands, SPREP, Australia funded project (Climate and Oceans Support Program (COSPPac) and UNDP Disaster for Pacific SIDS (RESPAC) project.
The views and opinions expressed in this article are those of the writer and do not necessarily reflect the views of the Secretariat of the Pacific Regional Environment Programme (SPREP) or the United Nations Development Programme (UNDP)both of which provided funding for generating media articles.