Aug 16, 2017
0 comment

angelicas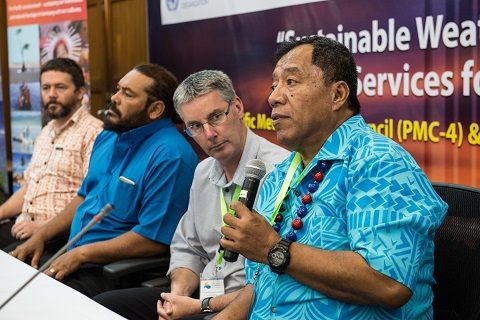 By: Joshua Lafoai of National University of Samoa School of Journalism
15 August, 2017, Honiara, Solomon Islands, PMC-4 – Samoa is one of many Pacific Island countries still in the process of meeting required standards to provide aviation weather services.
Aviation weather support is a big part of meteorology services in the world and it is one of the 19 checklists points required to be met by a country to host a civil aviation service.
At the 4th Pacific Meteorological Council (PMC) in Honiara, Solomon Islands, Tongan Met Director 'Ofa Fa'anunu speaking as the chair of the Pacific Islands Aviation Weather Services (PIAWS) panel says there are many Pacific Island countries have not met the required standards.
Fa'anunu says meeting standards set for aviation weather service is crucial to ensure met offices in the Pacific are capable of delivering these particular services.
Samoa's Meteorology Division Assistant Chief Executive Officer Mulipola Ausetalia Titimaea says Samoa is working to meet these standards.
"We are working on our certification under the standards required by the New Zealand Civil Aviation Act (NZCAA). We are working on developing proper documentation, instrumentation, and complete competency of staff," he said.
"All those are required by Samoa's Civil Aviation Act to be met," he said.
The New Zealand legislation for civil aviation is recognized by the International Standards Organization (ISO) hence its adoption by various countries in the Pacific including Samoa, Vanuatu, Papua New Guinea and Tonga.
"Samoa has met other areas required by the NZCAA part 174. It's only a small fraction of things that we are looking at getting done and we will be fully certified," said Titimaea.
Fiji's Met Service Director Ravind Kumar says adoption of New Zealand's legislation and standards in civil aviation practice is imperative for Pacific met offices.
"They're the best in the region and it's crucial that we follow the best practices applied in this particular area," said Kumar.
Aviation Weather Services provided by Meteorology services in each country is crucial to safe air transport. Weather predictions and monitoring play a big part in air travel, from take off until landing.
Fa'anunu says six percent of plane accidents worldwide are caused by weather observations being inaccurate.
He says this is comparatively small when compared to more than 58 per cent of the accidents caused by pilot error but adds it is the goal to ensure there will be none of those accidents in the future for the Pacific.
Part of making this a reality is for all islands in the region to meet the standards proposed by PIAWS to guide and regulate aviation weather services.
PIAWS is a working group under the PMC that provides technical support in terms of aviation weather services for the council to discuss and approve.
"In order to provide the proper aviation weather service, we need to ensure that countries meet the standards that they are expected to meet," Fa'anunu said.
Meanwhile, a select few countries in the Pacific have met the standards set by the New Zealand Civil Aviation Act part 174.5, which states;
"(a) No person shall provide a meteorological service except under the authority of, and in accordance with the provisions of, a meteorological service certificate issued under this Part."
"(b) The Director may grant a certificate authorizing the provision of meteorological services varying from a single meteorological service to a range of meteorological services supported by a network of meteorological offices intended for interacting with the New Zealand air navigation system."
"The safety of those who travel through the air depends on a lot of factors. One of them is the weather. This is where Met services come in," said Fa'anunu. – #PMC4 #PacificMet
The Fourth Pacific Meteorological Council is being held in Honiara, Solomon Islands from the 14 – 17 August co-hosted by the government of Solomon Islands, the Secretariat of the Pacific Regional Environment Programme (SPREP) and World Meteorological Organization (WMO). This will followed by the Second Pacific Meteorological Ministers Meeting (PMMM) on the 18 of August.
The PMC and PMMM is supported by the Government of Solomon Islands, SPREP, WMO, Government of Australia through the Climate and Oceans Support Programme (COSPPac) and Pacific Australia Climate Change Science and Adaptation Planning Programme (PACCSAP), Government of Finland, National Ocean and Atmospheric Administration (NOAA), United Nations Development Programme through the Resilience in the Pacific (SIDS) project.
The PMC consists of members of the Pacific National Meteorological and Hydrological Services supported by its technical partners, regional organisations, non-government organisations and private sectors.
This article was developed by a Pacific Media Team of Reporters currently providing coverage on the Fourth Pacific Meteorological Council in Solomon Islands. This activity coordinated by SPREP is supported by a partnership between the Government of Solomon Islands, SPREP, Australia funded project (Climate and Oceans Support Program (COSPPac) and UNDP Disaster for Pacific SIDS (RESPAC) project.
The views and opinions expressed in this article are those of the writer and do not necessarily reflect the views of the Secretariat of the Pacific Regional Environment Programme (SPREP) or the United Nations Development Programme (UNDP)both of which provided funding for generating media articles.