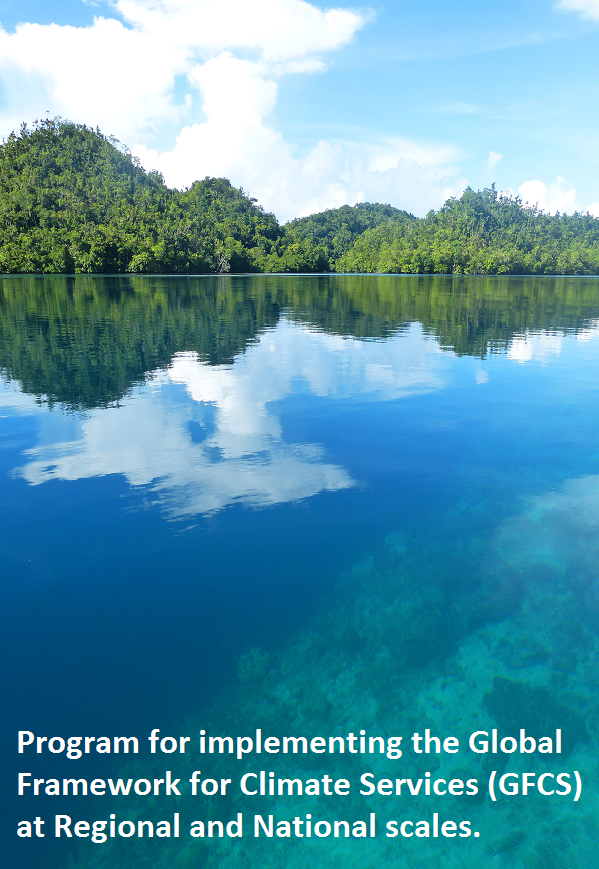 Project Description
Program for implementing the Global Framework for Climate Services (GFCS) at Regional and National Scales. 
This project is funded by Environment and Climate Change Canada (ECCC) through the World Meteorological Organization (WMO) and implemented by SPREP and the Pacific Meteorological Council (PMC) through the Pacific Island Climate Services (PICS) Panel (link to PICS Panel: www.sprep.org/meteorological-services/PICS-Panel)
The agreement between ECCC and WMO was signed on 26 March 2013 regarding financial assistance to the 4 year programme "Implementing the Global Framework for Climate Services (GFCS) at Regional and National Scales"
The GFCS project in Pacific commeneced on 1 July 2015 and will finish on 31 March 2018.
The Goal of the Programme is to enhance resilience in social, economic and environmental systems to climate variability and climate change through the development of effective and sustainable Regional and National Climate Services under the GFCS in selected regions and countries.
This programme should be able to produce, deliver and apply nationally relevant climate information under the following Key Results (KR) areas:
KR 1 Capacities and mechanisms for climate services production and delivery are in place in Small Island Developing States (Caribbean and South Western Pacific Ocean Region)
KR 4 Free access to a consolidated, cutting-edge knowledge base on Integrated Drought Management
KR 5  Sustained capacity development for developing country scientists
In the Pacific, the programme will  address priorities identified under the Pacific Islands Meteorological Strategy (link to strategy...www.sprep.org/meteorological-services/PIMS) and further detailed under the Action Plan (link here as well) for Climate Services developed by the PICS Panel.
The following key outcomes are expected by the end of the project implementation:
Regular consultations among climate services providers and other stakeholders
Functioning RCC supports national climate services' providers
Sustained RCOFs act as a mechanism to support national climate services
Improved Capacity at the national level to produce and disseminate standard Climate Information and Services
Drought Management policies are initiated
Capacity of experts in Pacific are enhanced
SPREP will support selected NMHSs in the preparation, holding and the follow-up of their National Climate Outlook Forums (NCOFs).  Follow-up will include further one-on-one work with specific interested user groups identified during the NCOF and the respective Meteorological Service.  Clear implementation plans that make use of the capacities and knowledge of the region as well as of those provided by WMO as a whole will be developed  and implemented with the support of the regional entity SPREP.  SPREP's involvement in the NCOF and national level activities will also help them learn about the national needs and better address them at the regional level by making relevant products, trainings and services available to the region.  Relevant topics  can then also be addressed during the RCOF session.
Project Activities include the following:
Activity 1.1.1: Report of the status of climate capacity in the Pacific
Activity 1.1.2: PICS Panel Meeting
Activity 1.1.3: National Stakeholder Consultations on Climate Services in 3 PICS
Activity 1.1.4: Showcasing benefits of climate services
Activity 1.2.1: Support to the RCC process in the Pacific
Activity 1.3.1: Support to the first RCOF in the Pacific (PICOF)
Activity 1.3.2: Sustaining COF outcomes
Activity 4.1.1: Support the development of national drought policies 
Activity 5.1.1: Regional training on basic IT knowledge for the production of climate services
Beneficiary Countries Pacific: American Samoa, Cook Islands, Fiji, Kiribati, Federated States of Micronesia, French Polynesia, Marshall Islands, Nauru, New Caledonia, Niue, Palau, Papua New Guinea, Samoa, Solomon Islands, Tokelau, Tonga, Tuvalu, Vanuatu, Wallis and Futuna.