Aug 15, 2017
0 comment

angelicas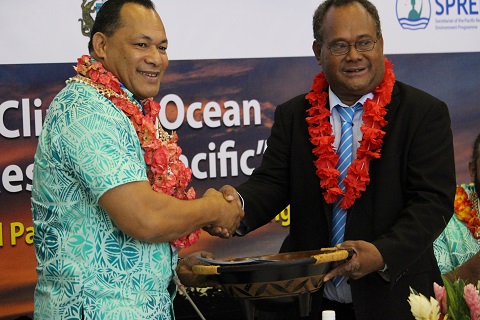 By Linny Folau of Matangi Tonga Online
14 August, 2017, Honiara, Solomon Islands, PMC-4 – Strengthening regional meteorological services by sharing knowledge and assisting each other is needed in order to build resilient societies were called for during the opening of the Fourth Meeting of the Pacific Meteorological Council on Monday, August 14 at the Forum Islands Fisheries Agency Conference Room.
The theme for this PMC4 meeting is Sustainable, Weather, Climate, Ocean and Water Services for a Resilient Pacific.
Solomon Islands Minister for Environment, Climate Change, Disaster Management and Meteorology Hon Samuel Manetoali in his opening address said globally majority of natural disasters are hydro-meteorological in nature.
He said in the Pacific region, a lot of natural disasters that have been experienced are also related to water and climate.
"Given our limited capacity, isolation, weak economic base and frailty as Pacific Island countries and territories, we are most vulnerable to the impacts of climate change and that of climate variability."
He said the gathering this week is to discuss ways and opportunities to strengthen their meteorological and hydrological services so that required services are provided for the safety of our people and their properties as well towards a more economically vibrant society.
"We must continue to assist each other. We must continue to collaborate and share knowledge, experiences and skills in our efforts to build resilient societies. We must continue to work with our partners and ensure that adequate resources are available to support the implementation of priorities programmes and projects in our countries and territories."
He said the global and regional frameworks on weather, climate and disaster risk reduction including the UN Framework Convention on Climate Change is and will facilitate their partnerships and future collaborations between their countries and development partners.
In the Solomon Islands through their climate change projects they established a series of automated rain gauge stations as well as a series of seismic stations around the country to improve their early warning systems.
Another important development is a proposed Joint National Warning Centre building, he said.
Secretariat of the Pacific Regional Environment Programme (SPREP) Director Kosi Latu said they were tasked to review the Pacific Island Meteorological Strategy with the support of selected members of council to develop a Pacific Roadmap for Strengthened Climate Services.
"I am happy to report that with the support of the Government of Australia through the support of the COSPPAC (Climate and Oceans Support Programme) project and WMO (World Meteorological Organization), the secretariat has finalised these strategic documents, which will be presented at this meeting," he said.
According to the Director General, they also set up a Pacific Climate Change Centre with the support of the Samoan Government and the Government of Japan to be presented later this week.
"This meeting is special as it is the first time they have a Partners and Donors Roundtable meeting," he said. - #PMC4 #PacificMet
The Fourth Pacific Meteorological Council is being held in Honiara, Solomon Islands from the 14 – 17 August co-hosted by the government of Solomon Islands, the Secretariat of the Pacific Regional Environment Programme (SPREP) and World Meteorological Organization (WMO). This will followed by the Second Pacific Meteorological Ministers Meeting (PMMM) on the 18 of August.

The PMC and PMMM is supported by the Government of Solomon Islands, SPREP, WMO, Government of Australia through the Climate and Oceans Support Programme (COSPPac) and Pacific Australia Climate Change Science and Adaptation Planning Programme (PACCSAP), Government of Finland, National Ocean and Atmospheric Administration (NOAA), United Nations Development Programme through the Resilience in the Pacific (SIDS) project.

The PMC consists of members of the Pacific National Meteorological and Hydrological Services supported by its technical partners, regional organisations, non-government organisations and private sectors.

This article was developed by a Pacific Media Team of Reporters currently providing coverage on the Fourth Pacific Meteorological Council in Solomon Islands. This activity coordinated by SPREP is supported by a partnership between the Government of Solomon Islands, SPREP, Australia funded project (Climate and Oceans Support Program (COSPPac) and UNDP Disaster for Pacific SIDS (RESPAC) project.