Aug 19, 2017
0 comment

angelicas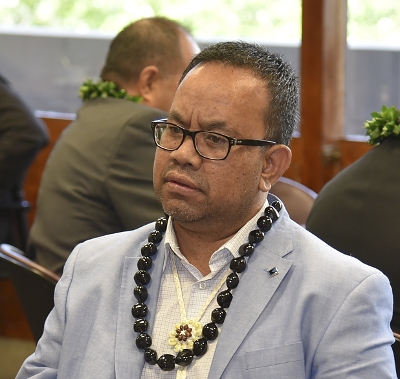 By Pita Ligaiula of Pacific Island News Assocation (PINA)
18 August, 2017, Honiara, Solomon Islands, PMC-4 – Pacific Meteorology Ministers today paid their respect in a moment of silence acknowledging the untimely passing of Mattlan Zackhras, Marshall Islands climate advocate and Minister responsible for Meteorology.
Zackhras aged 47 died of heart failure at a hospital in Taiwan earlier this month.
As minister-in-assistance to President Hilda Heine for the last 19 months, Zackhras was a convenor of the "high ambition coalition" in international climate talks.
Representing one of the most vulnerable countries in the world to sea level rise, he kept up pressure for tough climate action following the 2015 Paris climate summit.
Director General of the Secretariat of the Pacific Environmental Programme (SPREP) Kosi Latu speaking at the opening of the Second Pacific Ministerial Meeting on Meteorology (PMMM-2), proposed a minute of silence to remember their late colleague.
"This morning I would like us to join a one minute silence to remember one of your colleagues honourable Mattlan Zackhras of the Marshall Islands who was meant to be here for the ministerial segment but unfortunately he passed away last week.
"Can I seek your indulgence this morning for us to show our respect to your colleague and to remember him as someone who was active on the environment and who truly care for the Pacific," Latu said
Foreign minister John Silk is handling the late Zackhras' international duties until further notice
In a twitter message Silk said "Farewelled my friend today @MattlanZackhras. Joining Twitter to help take forward his legacy fighting for climate action and for our people," he said. – #PMC4 #PacificMet
The Fourth Pacific Meteorological Council is being held in Honiara, Solomon Islands from the 14 – 17 August co-hosted by the government of Solomon Islands, the Secretariat of the Pacific Regional Environment Programme (SPREP) and World Meteorological Organization (WMO). This will followed by the Second Pacific Meteorological Ministers Meeting (PMMM) on the 18 of August.

The PMC and PMMM is supported by the Government of Solomon Islands, SPREP, WMO, Government of Australia through the Climate and Oceans Support Programme (COSPPac) and Pacific Australia Climate Change Science and Adaptation Planning Programme (PACCSAP), Government of Finland, National Ocean and Atmospheric Administration (NOAA), United Nations Development Programme through the Resilience in the Pacific (SIDS) project.

The PMC consists of members of the Pacific National Meteorological and Hydrological Services supported by its technical partners, regional organisations, non-government organisations and private sectors.

This article was developed by a Pacific Media Team of Reporters currently providing coverage on the Fourth Pacific Meteorological Council in Solomon Islands. This activity coordinated by SPREP is supported by a partnership between the Government of Solomon Islands, SPREP, Australia funded project (Climate and Oceans Support Program (COSPPac) and UNDP Disaster for Pacific SIDS (RESPAC) project.
The views and opinions expressed in this article are those of the writer and do not necessarily reflect the views of the Secretariat of the Pacific Regional Environment Programme (SPREP) or the United Nations Development Programme (UNDP)both of which provided funding for generating media articles.