Aug 19, 2017
0 comment

angelicas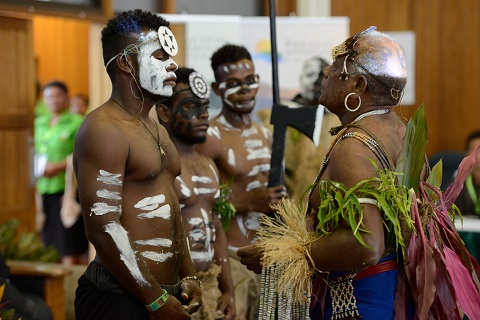 By Yvette D'Unienville of Tuvalu Broadcasting Services & Ruci Vakamino of Wansolwara

18 August, 2017, Honiara, Solomon Islands, PMC-4 – Ministers were today requested to make wise decisions on actions concerning the Pacific region by the acting Prime Minister of Solomon Islands, Manasseh Maelanga, when opening the second Pacific Meteorological Ministerial Meeting on Meteorology (PMMM-2) in Honiara today.

"Your meeting is to discuss and agree on decisive actions that the NMHSs (National Meteorological and Hydrological Services) and disaster management offices need to undertake to ensure better, new, improved and innovative services, rendered to the people of this region," Maelanga said.

In reference to the theme of the meeting, 'Sustainable Weather, Climate, Ocean and Water Services for a Resilient Pacific,' Maelanga also made several suggestions to the ministers.

In his address, Australia's Ambassador of the Environment Patrick Suckling shared the importance of information-based actions in the work on climate variability and climate change.

"The strength of collaboration and the technical expertise coming into this region focusing on evidence-based policy is what we are focusing on," said Ambassador Suckling

"Preparedness of community based of information about weather and climate is absolutely essential to people and during emergencies."

The visiting Australian envoy also assured the meteorological community in the Pacific of his country's continued support.

"From our Bureau of Meteorology perspective, this is something very significant and that we are looking to build on over the next 10 years. This meeting is a milestone step forward.

"Because there are so many ministers and experts here, we are rock solid supporters of your work and we will always stand shoulder to shoulder with Pacific Island counterparts across the spectrum of challenges that climate change has brought on us."

Present at the Ministers Meeting in Honiara today were the deputy Prime Ministers of Samoa and Tonga and ministers from Fiji, Nauru, Solomon Islands, Tokelau, and Vanuatu Australia was represented by its Ambassador of the Environment, the New Zealand High Commissioner to Solomon Islands represented his country as well as high level representatives from American Samoa, Cook Islands, Federated States of Micronesia, Kiribati, Marshall Islands, New Caledonia, Papua New Guinea and Tuvalu. – #PMC4 #PacificMet



The Fourth Pacific Meteorological Council is being held in Honiara, Solomon Islands from the 14 – 17 August co-hosted by the government of Solomon Islands, the Secretariat of the Pacific Regional Environment Programme (SPREP) and World Meteorological Organization (WMO). This will followed by the Second Pacific Meteorological Ministers Meeting (PMMM) on the 18 of August.

The PMC and PMMM is supported by the Government of Solomon Islands, SPREP, WMO, Government of Australia through the Climate and Oceans Support Programme (COSPPac) and Pacific Australia Climate Change Science and Adaptation Planning Programme (PACCSAP), Government of Finland, National Ocean and Atmospheric Administration (NOAA), United Nations Development Programme through the Resilience in the Pacific (SIDS) project.

The PMC consists of members of the Pacific National Meteorological and Hydrological Services supported by its technical partners, regional organisations, non-government organisations and private sectors.

This article was developed by a Pacific Media Team of Reporters currently providing coverage on the Fourth Pacific Meteorological Council in Solomon Islands. This activity coordinated by SPREP is supported by a partnership between the Government of Solomon Islands, SPREP, Australia funded project (Climate and Oceans Support Program (COSPPac) and UNDP Disaster for Pacific SIDS (RESPAC) project.

The views and opinions expressed in this article are those of the writer and do not necessarily reflect the views of the Secretariat of the Pacific Regional Environment Programme (SPREP) or the United Nations Development Programme (UNDP)both of which provided funding for generating media articles.