Aug 18, 2017
0 comment

angelicas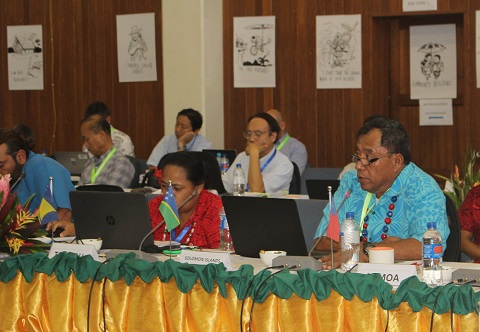 By Joshua Lafoai of the School of Journalism, National University of Samoa
17 August, 2017, Honiara, Solomon Islands, PMC-4 – At the Pacific Meteorological Council (PMC) meeting in Honiara, National Met Directors have expressed the interest of developing a university level course on meteorology in the region.
This new course is expected to address the declining number of interests in science and mathematics in the Pacific.
Tonga's Met Director, 'Ofa Fa'anunu and Samoa's Met Assistant Chief Executive Officer, Mulipola Ausetalia Titimaea acknowledged the issue when asked whether the PMC finds the trend worrying.
"I agree with that. We have been trying to send meteorologists overseas for training in the last three years and we always found it hard to find mathematics and science enthusiasts for that," said Fa'anunu.
Fa'anunu said he had raised the issue with the Ministry of Education in his country.
"I always thought that we Tongans traditionally were strong in mathematics but it seemed that there is a decline in mathematicians," he added.
In Samoa, Mulipola said part of the worry stems from not having a core course in meteorology in the Pacific region.
"We don't have a structure where people can pursue meteorological science and it's because it is not a core subject, so that's why we seek the help of the World Meteorological Organisation so we can send students to study abroad, but it all depends on the funding," he said.
The University of the South Pacific (USP) though is a close partner of the PMC.
"USP offers a paper pertaining to meteorological studies but it's not a full course. It's just a single paper so it doesn't offer a full degree in meteorology," added Fa'anunu.
Professor of Climate Change Studies and Director of the Pacific Centre for Environment and Sustainable Development (PaCE-SD) Elizabeth Holland says USP offers a course that trains meteorologists.
"USP does have a course in place and its called Climate Change. It doesn't necessarily focus on meteorology but it covers most of the criteria needed to be a meteorologist," Professor Holland said.
Samoa's Met Assistant Chief Executive Officer said the Pacific are still encouraged to send students to Australia and the Philippines for studies because of the restraints given by national qualifications authorities (NQA) in each respective islands.
"We need the NQA's of each country in the region to recognise short term training including that course offered at USP to be a legitimate course that trains meteorologists," he said.
Mulipola said there is a difference between qualification and competency, and Samoa prefers the latter.
"It's not so much about qualifications. If you can be competent in doing the work of a meteorologist, and you are reassured through training, then you should be able to practice," he said.
Meanwhile, the PMC is still in talks with USP in preparing a course for meteorology specifically and have earmarked the Fiji Meteorological Training Centre to be the place to hold the course.
"It's there that we have the space to host a full meteorological degree course," he added.
"So we have been talking with USP for a while now in helping develop a possible full degree course," added Fa'anunu.
"It will only be a matter of time when we will get the right funding and the right support to get that off the ground," he said. – #PMC4 #PacificMet
The Fourth Pacific Meteorological Council is being held in Honiara, Solomon Islands from the 14 – 17 August co-hosted by the government of Solomon Islands, the Secretariat of the Pacific Regional Environment Programme (SPREP) and World Meteorological Organization (WMO). This will followed by the Second Pacific Meteorological Ministers Meeting (PMMM) on the 18 of August.

The PMC and PMMM is supported by the Government of Solomon Islands, SPREP, WMO, Government of Australia through the Climate and Oceans Support Programme (COSPPac) and Pacific Australia Climate Change Science and Adaptation Planning Programme (PACCSAP), Government of Finland, National Ocean and Atmospheric Administration (NOAA), United Nations Development Programme through the Resilience in the Pacific (SIDS) project.

The PMC consists of members of the Pacific National Meteorological and Hydrological Services supported by its technical partners, regional organisations, non-government organisations and private sectors.

This article was developed by a Pacific Media Team of Reporters currently providing coverage on the Fourth Pacific Meteorological Council in Solomon Islands. This activity coordinated by SPREP is supported by a partnership between the Government of Solomon Islands, SPREP, Australia funded project (Climate and Oceans Support Program (COSPPac) and UNDP Disaster for Pacific SIDS (RESPAC) project.
The views and opinions expressed in this article are those of the writer and do not necessarily reflect the views of the Secretariat of the Pacific Regional Environment Programme (SPREP) or the United Nations Development Programme (UNDP)both of which provided funding for generating media articles.