Oct 31, 2023
0 comment

sunnys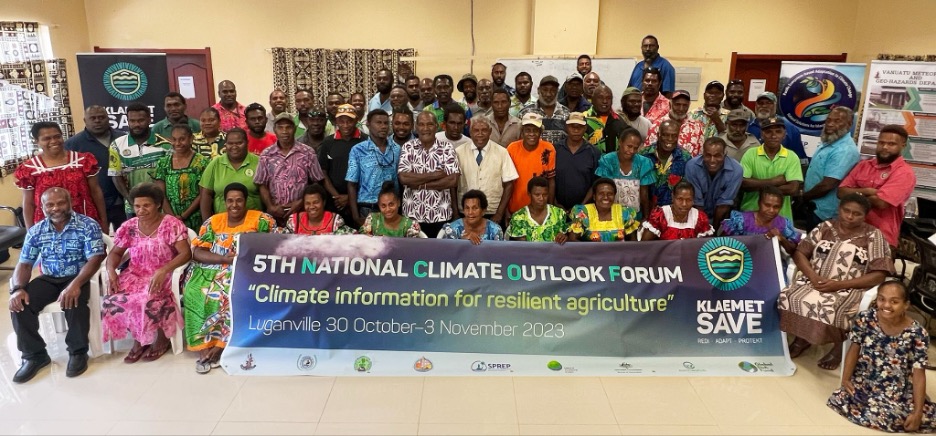 30 November 2023 – Luganville, Vanuatu - Vanuatu's felt the full force of nature when severe tropical Cyclone Lola hit the northern and central regions of the country last week, leaving two dead and a path of devastation in its wake. This unfortunate climate-related event underscores precisely why access to accurate, up-to-date information about Vanuatu's climate is so important.
TC Lola arrived just a week before the start of the Vanuatu cyclone season, which is announced officially each year by the Vanuatu Meteorology and Geohazards Department (VMGD) at VMGD's key annual public awareness event, the National Climate Outlook Forum, or NCOF for short.
Today, the 5th annual National Climate Outlook Forum opened in Luganville. This year's five-day event runs from Monday 30 October to Friday 3 November in Luganville, Santo.
Every year, NCOF is timed to follow the Pacific Islands Climate Outlook Forum (PICOF), where members of the region's meteorological, agricultural, and fisheries community gather to discuss the climate and ocean outlook for the seasons ahead. PICOF was held last week in Nadi, Fiji, and released the regional climate outlook statement for November 2023-April 2024, which can be downloaded here.
Similarly, this week's NCOF event culminates with the presentation of the National Statement on the Tropical Cyclone Seasonal Outlook for 2023/2024 on Friday.
NCOF's theme this year is "Climate Information for Resilient Agriculture", highlighting the importance of reliable climate information to ensuring Vanuatu's food security.
To help get this important information out to the communities around Vanuatu, NCOF brings together stakeholders from around the country to discuss the production, accuracy, and utility of VMGD's monthly and seasonal climate outlooks. Participants will also explore how climate information can minimize the impacts of ENSO on the agriculture sector.
67 people are in attendance at this NCOF—45 men and 22 women. This includes members of VMGD's Vanuatu Rainfall Network and traditional climate knowledge network, as well as staff from the Department of Agriculture and Rural Development (DARD).
As well as the Tropical Cyclone Seasonal Outlook, NCOF attendees will be learning about the VanKIRAP Project's climate information products, and about every aspect of VMGD's work as Vanuatu's national meteorology and geohazards service. One day will be dedicated to climate and agriculture, and will include a site visit to Vanuatu's Agricultural Research and Technical Centre (VARTC).
In addition to the National Statement on the Tropical Cyclone Seasonal Outlook, Friday will also see the official launch of two important traditional climate knowledge products from the VanKIRAP project – a national Traditional Knowledge Indicator booklet, and the ClimateWatch mobile app, a citizen science tool designed to help the public share traditional climate knowledge.
Attendees will also learn how to improve agricultural productivity using the climate information provided by OSCAR, a new mobile app developed as part of the VanKIRAP project.
NCOF is supported by the Secretariat of the Regional Environment Programme (SPREP) and the Green Climate Fund (GCF) through the VanKIRAP Project, and by partners the Australian Government's Bureau of Meteorology, Earthwatch Australia, and the Global EBA Fund.
The Vanuatu Klaement Infomesen blong Redy, Adapt mo Protekt (VanKIRAP) project is a five-year, USD 22 million project which aims to support climate resilient development in Vanuatu through the development, communication, and application of climate information services to benefit agriculture, fisheries, tourism, infrastructure, water sectors and communities. It is funded by the Green Climate Fund and implemented by the Secretariat of the Pacific Regional Environment Programme in partnership with the Vanuatu Meteorology and Geo-hazards Department, Commonwealth Scientific and Industrial Research Organisation, the Australian Government's  Bureau of Meteorology, and the APEC Climate Center.
For more information please contact Mr. Sunny Kamuta Seuseu, Acting Manager, VanKIRAP Project on email [email protected].