Aug 06, 2019
0 comment

admin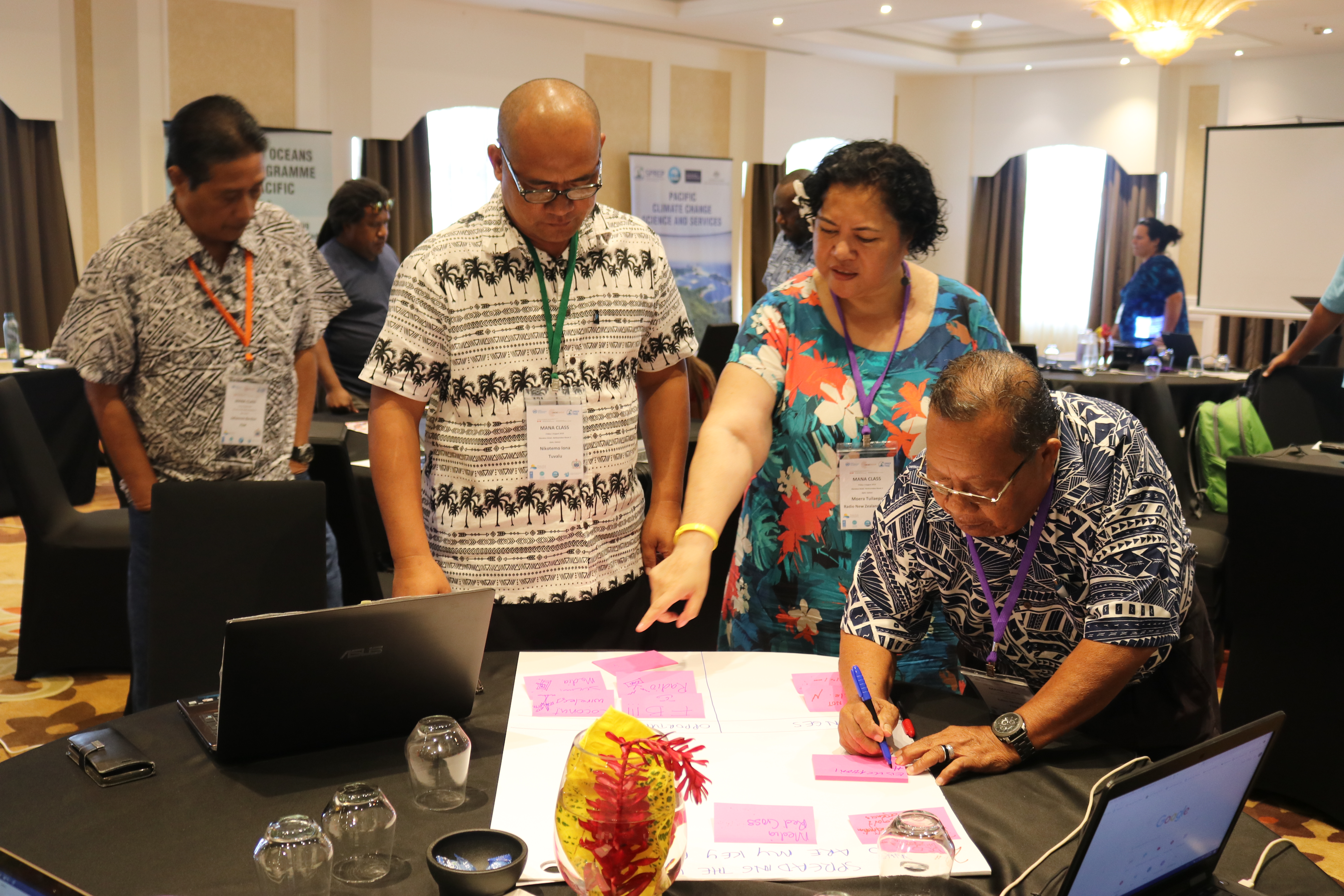 2 August 2019, Apia, Samoa - "We do not need to 'dumb down' our terminology and language. What we need to do is to raise people's understanding of that language." 
This was one of the messages shared during the first day of Mana classes for Meteorological Service Directors and officers, which is taking place in Apia, Samoa 
The Mana Classes aim to support Directors and other senior personnel of Meteorological and Hydrological Services in their endeavour for effective communications skills.
This will be achieved through Masterclasses in media and radio held prior to the fifth Pacific Meteorological Council Meeting. 
Communicating information clearly and effectively to a wide audience helps enable effective preparedness for weather and climate impacts to come. Hence, the role of communications for Met Services across the world is crucial to the well-being and survival of many Pacific island communities and people. 
The first day of Mana classes was dedicated to helping Met Directors and Senior Personnel develop the necessary skillsets to be heard loud and clear on radio and be able to deliver their message clearly and concisely for their audience to be able to understand what they're trying to say. 
Seasoned Pacific journalist and President of the Pacific Environment Journalists Network, Mr Iliesa Tora, guided the Met Directors and senior personnel with tips on how to effectively communicate on radio, and how to avoid arguments and conflict, especially while on live talkback shows. 
He also gave the opportunity to the participants to identify existing relationships their Met services have with local radio stations, as well as challenges they have faced with regards to either speaking live on radio or disseminating information on radio. 
Director of the Fiji Met Service, Mr Misaeli Funaki, identified that the Fiji Met Service utilise the Fiji Broadcasting Corporation, which operates in various dialects as well as English, in order to disseminate information. 
"A few networks have been coming on board recently, mainly based in communities, and discussions have started for a radio network to ensure all these stations communicate well with each other," said Mr Funaki. 
In Kiribati, as Mr Ueneta Toorua, Director of Met Service identified, the government radio stations runs from 6am to 10pm and covers the entire Kiribati group. The Met service provides information to the media, including the radio stations, and this information is then broadcast free of charge. 
Ms Moera Tuilaepa-Taylor of Radio New Zealand, one of the trainers for the Mana classes, also offered guidance for the Met personnel on how to effectively communicate on radio, and highlighted the Radio New Zealand's Pacific Cyclone Services Watch and how Pacific Met Services can utilise this service. 
The Hearing you loud and clear on Radio Mana Class was held on 2 August, 2019 before the Fifth Pacific Meteorological Council to take place from 7 – 9 August, 2019 in Samoa.  It is a partnership between the World Meteorological Organisation, the Climate Risk and Early Warning Systems Project, Environment and Climate Change of the Government of Canada, the Government of Samoa and the Secretariat of the Pacific Regional Environment Programme, United Nations Development Programme, IMPACT, Commonwealth Scientific and Industrial Research Organisation, and the Climate and Ocean Support Program for the Pacific.  Facilitated by SPREP, this is one of three communication Mana classes conducted with training support from the Pacific Environment Journalists Network, Pacific Media Network and Radio New Zealand Pacific.