The Regional Meteorological Services Directors (RMSD) Meeting convened for its 14th session at the International Conference Centre in Majuro, Republic of the Marshall Islands from 9–12th August 2011. It was preceded by a Pacific Regional Meteorological Services Directors Workshop in Support of Climate Adaptation Planning in the Pacific Islands on 8th August.
thumbnail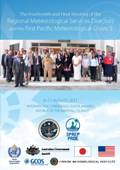 The Second Meeting of the Pacific Meteorological Council (PMC-2) was held at the Novotel Hotel Conference Centre, Nadi, Fiji Islands from 1 to 5 July, 2013. Members of the Pacific Meteorological Council (PMC) from the following countries and territories attended the meeting: American Samoa, Australia, Cook Islands, Federated States of Micronesia, Fiji, French Polynesia, Kiribati, Marshall Islands, New Caledonia, Wallis and Futuna, New Zealand, Niue, Palau, Samoa, Solomon Islands, Tokelau, Tonga, Tuvalu, United States of America and Vanuatu.
thumbnail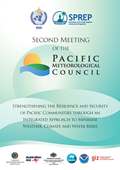 The First Pacific Ministerial Meeting on Meteorology (PMMM-1) and the Third Pacific Meteorological Council Meeting (PMC-3) convened at the Fa'onelua Convention Centre in Nuku'alofa, Tonga on the 20 to 24 July, 2015. The meeting adopted the theme: "Sustainable Weather and Climate Services for a Resilient Pacific"; underpinning the important role of NMHSs in the sustainable development context of Pacific Island Countries and Territories (PICTs).
thumbnail